Most people won't go to Antarctica when the world reopens after the pandemic. But just in case they want to keep their options open, there may be a way. At the end of February, a Boeing 767 passenger jet operated by Loftleiðir, a charter-flight subsidiary of Icelandair, landed on the snowy continent. "We usually fly closer to home, near the Arctic Circle, but this flight was even cooler: 4 days and 42 flight hours from the top of the world to the bottom, and home again," the airline said in a blog post.
The jet, powered by a pair of GE CF6 jet engines, was there to pick up a group of scientists returning home from the Troll research station run by the Norwegian Polar Institute in Dronning Maud Land. "From our flight-deck seats we could see the vertical 30- to 40-meter-high ice wall that marks the beginning of solid ice leading inland to the Troll station some 250km from the edge," co-pilot Bjartmar Örn Arnarson wrote in his log. They also left provisions for the remaining staff who were staying at this forbidding place during the upcoming winter.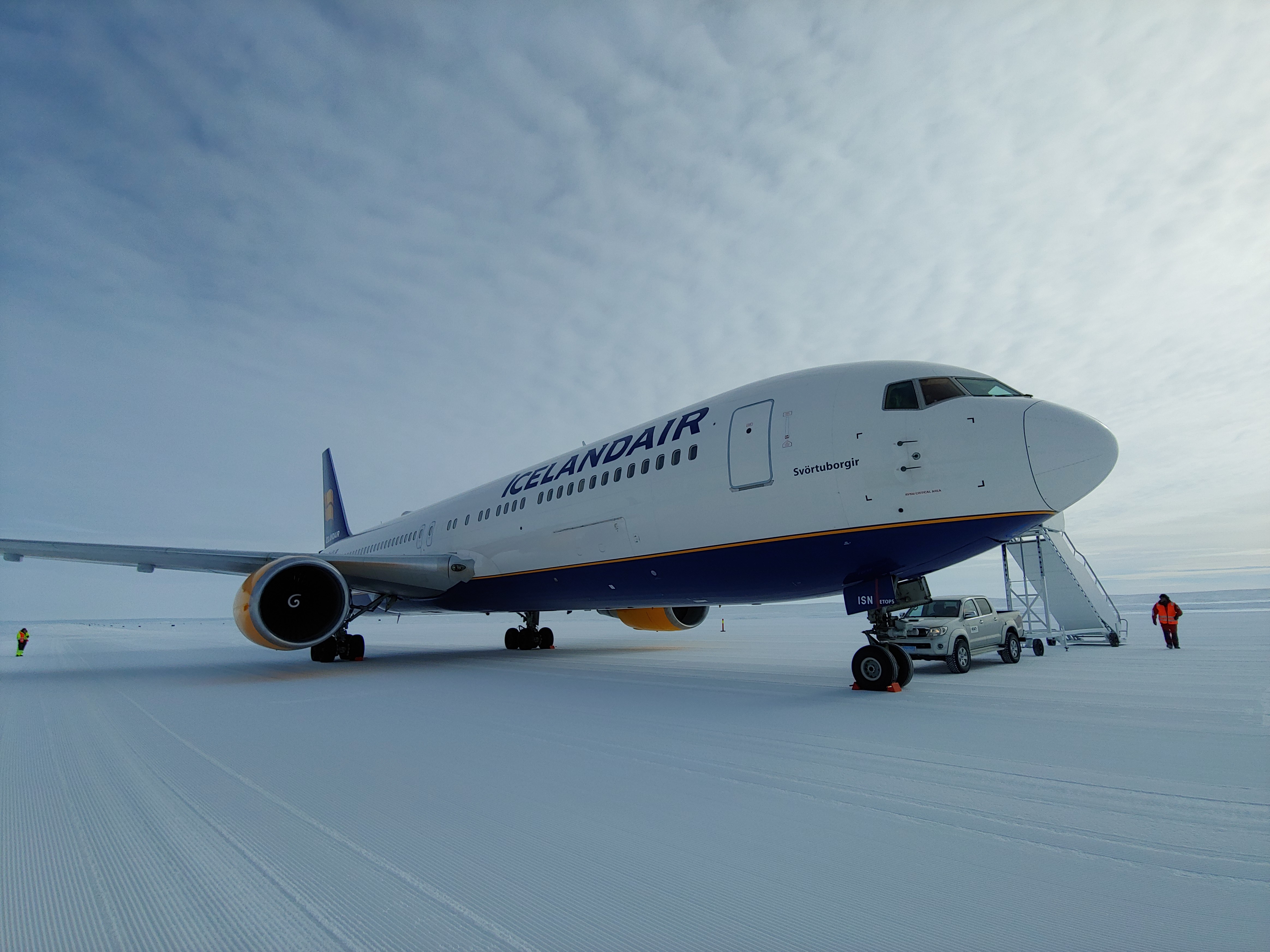 This time of the year, at the end of the summer, Troll is a frigid and windy place. But the pilots handled the landing handsomely. "The Norwegians have built a runway on the blue ice that is special because of its strength and structural nature," Arnarson reported. "It has been beaten down with constant hurricane-force wind that has squeezed the air bubbles out of the ice, and it appears deep blue. And because of its solidness, it can hold a massive airplane like the B767 and is really smooth."
The high temperature on arrival Feb. 26 was just 9 degrees Fahrenheit and the wind was blowing at a brisk 30 miles per hour. But the airline team, which included six pilots, 13 crew and one flight engineer, received a warm welcome from the Norwegian group, some of whom spent 16 months in Antarctica. They took pictures together, serviced the plane and within 2 hours they were back in the air, heading to Cape Town, South Africa, for a short stop, then onto Oslo, Norway, with a final landing in Reykjavik, Iceland.
You don't need to hop on a Boeing 767 jet to experience the power of the CF6 engines. The workhorse engines also power other aircraft including many Boeing 747 planes and Air Force One. A modified version of the engine also powers the C-5 Super Galaxy, the largest U.S. military transport jet. And the engine's core can be converted to burn natural gas and used for power generation. Several of these modified turbines will help a Colorado utility shut down a coal-fired power plant, bring more renewables online, and reduce its carbon footprint — a move the scientists studying the Earth's atmosphere in Antarctica would find encouraging.
The crew filmed their Antarctic flight and landing from the cockpit. Take a look:
Categories
tags