What if quiet flights from nearby airports could get you places much faster and for less than today ? What if air transit could be as simple as boarding a bus or a train today? Hybrid-to-electric aviation is poised to bring high-speed regional travel to thousands of communities starting in the early 2020s. Fast and carbon-free regional travel isn't just a futuristic concept. Ashish Kumar, CEO Zunum Aero, describes what's going to take flight in the next decade.




Aviation is at an inflection point. Over the past 70 years, the jet age has driven a boom in air travel and connected the globe as never before. Electric propulsion is now poised to do the same for regional routes of less than 1,000 miles.

Emerging in the early 2020s, hybrid-to-electric aircraft will pave the way to a new era of regional air. The impact on mobility will be revolutionary: door-to-door travel two to four times faster than today, affordable high-speed connectivity to thousands of communities, and a path toward eliminating 40% of commercial aviation emissions in 20 years.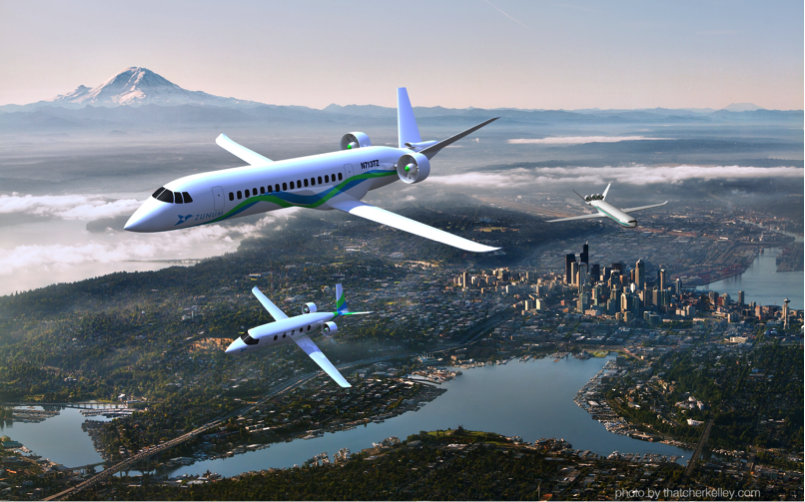 Zunum Aero hybrid-to-electric regional aircraft in the 2020s.

The new era of regional air will be a striking contrast to the past. While aviation has skyrocketed, with air miles traveled doubling every 15 years since deregulation in 1978, the success has come at a steep price for regional travel. This has driven a long-term shift of multiple generations of carriers toward larger aircraft and longer ranges, with a dramatic impact on the regional fleet. In 1980, aircraft held an average of 20 seats, tripling to 60 by 2010 -- carriers are now standardizing to 80 seats, and this scale-up is expected to continue.



Long-term scale up of the U.S. regional fleet, relative to the Boeing 737.

While this scale up of aircraft has been critical to drive down costs, it has reduced the frequency of air services and destinations served to a very small number of high-volume hubs. Just a percent of the 13,500 airports in the U.S. carry 96 percent of air traffic today.

With air travel focused on long-haul routes, regional travelers are subjected to the same "ground transit burden"—driving to a hub, traversing the hub and waiting and taxiing on the tarmac before take-off. For air trips under 1,000 miles, travelers spend over 70 percent of their time actually on the ground. It's no wonder that we travel by air for just four percent of regional trips. And this fraction is declining as aircraft sizes increase and carriers consolidate.

This dynamic has created one of the greatest challenges in transportation today: a vast regional transport gap where there is no high-speed option. Thousands of communities have poor or no access to high-speed travel due to distant hubs, infrequent flights, few destinations or high fares. Where access is better, door-to-door times have not improved for decades. Meanwhile, alternatives like high-speed rail are limited by economics to a few high-density corridors.

The dependence on the jet engine has also left aviation trailing on the journey to green. Two decades of efforts to include aviation in UN climate efforts post-Kyoto resulted in the CORSIA agreement (Carbon Offsetting and Reduction Scheme for International Aviation https://www.icao.int/environmental-protection/Pages/market-based-measures.aspx) late last year, requiring airlines to offset growth of their emissions after 2020. However, most expect airlines to meet the bulk of their commitments through offsets rather than by decarbonizing causing concern that impact on emission from the sector will be insignificant.

Regional air powered by range-optimized hybrid-to-electric aircraft is poised to take on this challenge. Electric propulsion will bring airliner competitive economics to mid-sized aircraft over ranges from 700 miles in the early 2020s to over 1,000 miles by 2030. Hybrid aircraft will give rise to a regional air system that is very different from the concentrated hub-spoke of the jet engines today. This will be much more distributed, capital light and molded to travel patterns. Mid-sized aircraft flying lower will serve large numbers of community and urban airports. The greater choice of schedules and destinations, coupled with less trafficked routes, will enable faster, more personalized regional travel.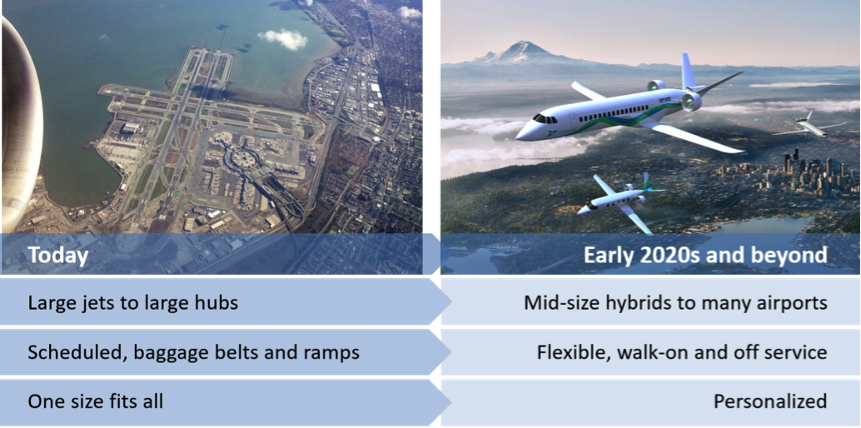 Current long-haul focused air system contrasted with the 2020s regional air system.

The transformation will be powered by aircraft tailored for high-speed door-to-door travel. Quiet and green flights with short or vertical take-off capabilities will open doors to all-hours services to nearby airfields. Cabins designed for fast walk-on, walk-off transit will mimic the simplicity of boarding a bus or a train today. Meanwhile, the large stock of secondary airfields that cover half the world, NextGen air traffic control upgrades fully deployed by 2022 (SESAR in the EU) and multiplying last mile options will enable this mode to emerge with little infrastructure beyond airside recharge and swap.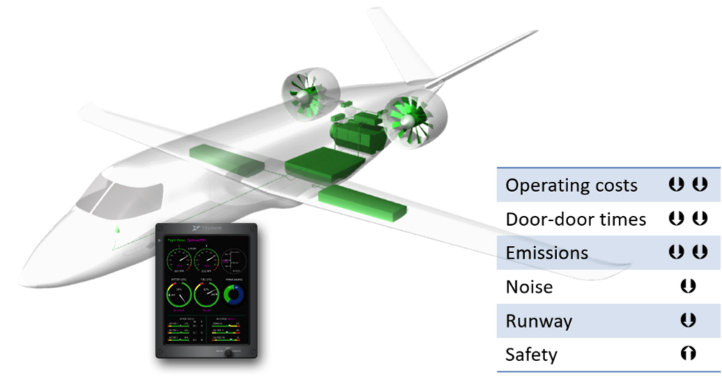 Zunum hybrid-to-electric platform shown in green along with proposition versus conventional.

Driven by pent-up demand for fast and convenient regional travel, electric aircraft will establish aviation as powerful alternative to highways and high-speed rail. The distributed electric air networks will bring high-speed travel everywhere, rejuvenate disconnected communities and pave the way to carbon-free regional travel. We will much more be able to live where we like, yet get to destinations fast, while leaving behind a healthy planet.

(Top image: Courtesy Zunum Aero)




Ashish Kumar is CEO of Zunum Aero. Inspired by the disruptive power of electric aircraft, he co-founded Zunum Aero following a long record of commercial leadership across Microsoft, Google, Dell, and McKinsey, and an early career as a Professor of Engineering at Brown University. 






All views expressed are those of the author.


tags