Industrial companies need to adopt a digital mindset that embraces what the Industrial Internet can offer in new growth opportunities.


If you have a mobile phone, tablet, computer or all three, companies like Amazon, Google and Apple are all household names. With the explosion of the consumer Internet during the past 15 years, these companies collectively have amassed more than $200 billion in value innovating and establishing new business models on this singular platform. These companies through the use of data and analytics have defined the consumer Internet.

If you thought the growth of the consumer Internet was big, just wait until you see what the Industrial Internet will bring. For GE alone, we estimate that the Industrial Internet will create at least $15 billion in new value by 2020 to what is today a $150 billion company.

A vast array of industrial machines — jet engines, power generators, pipelines, locomotives — increasingly are becoming connected through the Internet. With the amount of data generated by machine sensors rising exponentially, coupled with ever-more powerful Big Data analytics, the Industrial Internet has reached a critical tipping point. It requires industrial companies to adopt a digital mindset that embraces what the Industrial Internet can offer in new growth opportunities. Many are calling it the emergence of the data economy.

The data economy in fact already is here. Hundreds of billions of dollars in value has been created in the consumer Internet. But we're just beginning to see the value it can bring to the Industrial Internet. Estimates peg the number of connected things to reach 50 billion by 2020. The consumer Internet was built by connecting several billion people. Can you imagine how big the Industrial Internet could get? For any industrial company looking to expand, my mantra is to generate, segment and analyze the data toward a desired business outcome.

Going back to the examples of Amazon, Google and Apple, how did they transform the consumer Internet? By focusing on consumers and constructing digital profiles of us. Let's take what Amazon did through the example of a single online shopper.

On Amazon, you might have a female named Linda. Linda is between the ages of 25-34, with an income of close to $70,000. Through her online shopping, Amazon learns a few things about her. It learns, for example, that she has a child between five and 10 months through some infant items she purchases. When she orders and ships a package from an online purchase, we know her parents live 600 miles away and are celebrating their 40th anniversary. Finally, we know from her account that she spends about $500 -$1,000 on average per month. But the analysis does not stop there.

Once Amazon has formed a profile of Linda, it can do analytics that helps them find other individuals that fit a similar profile to Linda's. Soon after, Amazon is able to form a psychographic profile of a much larger group of people just like Linda. From this profile, you can amass so much data about the group that you can now begin to predict what Linda or another individual like her will buy. And once you can predict what someone will want to buy and want, you can tailor not only your marketing but also transform and expand your business and service models based on the data and analytics you are able to gather and analyze.

In Amazon's case, you saw them go from selling books to creating digital devices like the Kindle, Echo, and Amazon Web Services (AWS). They were successful because they had the data and analytics to create a model of one. Achieving a model of one allows Amazon to predict what you may want or need before you even know it. And it's one of the chief reasons they have been so successful over time.

I'm spending the time to walk through Amazon because it's very analogous to how GE and other industrial companies will realize new growth opportunities through the Industrial Internet. By creating digital profiles of our assets, that will allow us to extract new value and to transform and expand our business models in the same manner that Amazon has done.

Through our Digital Twin initiative, we're building up profiles of every machine we make, which will allow us to get to that model of one.

Here are some examples of how the digital profile can transform industries, reducing costs and boosting productivity and reliability:



On our GE90 Engine, we have used flight data from digital twins of our engines to save tens of millions of dollars in unnecessary service overhauls per customer.


Through digital twin models of our Evolution Locomotive, we are minimizing fuel consumption and emissions – generated per trip. This saves 32K gallons / locomotive and 174K tons in emissions per year.


With our 6FA Turbine Combined Cycle Plant, we have used digital models of these plants is helping us achieve a >1 percent increase in efficiency that will be scalable across all plants like this. At this scale, a 1 percent increase represents billions of dollars in savings.



To succeed and capitalize on the growth opportunities the Industrial Internet is creating, industrial companies must not only be deep in software and analytics but have the physical knowledge to match. It's not enough to have great software. In the complex, high-tech infrastructure worlds, you must have the deep domain expertise and knowledge of the machines and business operating environments to match.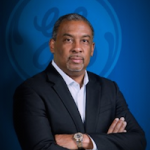 Colin Parris is Vice President for Software Research, GE Global Research
All views expressed are those of the author.
tags