Dayna Johnson had one of those a-ha career moments while visiting GE Gas Power's Advanced Manufacturing Works, a state-of-the-art facility for new-make process and repair development in Greenville, South Carolina, this spring. Hung on a wall was an oversize poster of Thomas Edison, emblazoned with a few of his very wise words.
"'Opportunity is missed by most people because it is dressed in overalls and looks like work,'" she says, quoting the man who founded General Electric. "That really resonated with me. Opportunity is not dumb luck — it's when you see something and you tackle it and make it your own. That idea has guided the ways I've handled my life so far. I saw the poster and thought, 'Yes, I'm in the right place.'"
Johnson has been at GE for more than a decade and today works in Chicago as an emerging technology leader for GE Gas Power. Her leadership and passion for recruiting and empowering women in the STEM fields of science, technology, engineering, and mathematics matches GE's own commitment to building diverse, vibrant teams.
Johnson is a longtime supporter and current president of the Society of Women Engineers (SWE), a 43,000-member nonprofit that advocates globally for women in engineering and technology. While in Greenville, she attended a wine auction benefit for SWE sponsored by GE's Women's Network, which has contributed more than $1 million to SWE's engineering scholarship fund over the years. By the time her one-year presidency ends in July, she'll have spoken at dozens of similar events around the world and attended countless meetings at the organization's Chicago headquarters and around the country.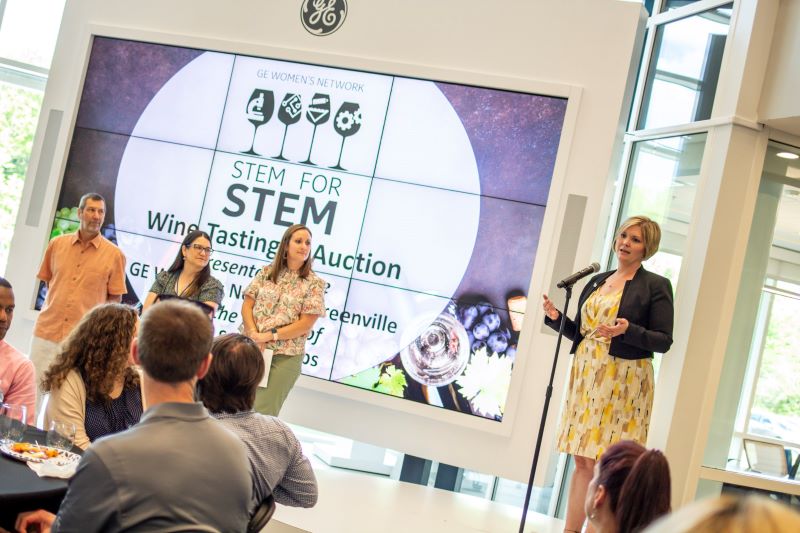 That's on top of her full-time GE job and her role as a wife and mother of two preteen sons. "SWE is part of the reason I'm where I am today," she says. "I want to do what I can to help other women get into engineering, and to help them feel like they belong here."
Johnson knows firsthand the advantages that a support network can bring. Filled with brains and ambition, she knew she would graduate near the top of her high school class in Minooka, Illinois, and she'd set a goal of becoming the first person in her family to earn a college degree. But with few role models to guide her, she wasn't sure how to go about it — how to apply for scholarships, for example — or even what to study. "I had all these aspirations, but I didn't know what I was actually aspiring to," she recalls.
Johnson landed on civil engineering after touring a chemical plant as part of a high school class. "I wasn't crazy about the chemical process, but I thought the process of treating wastewater so that it could be put back into the environment was super cool," she says. That wasn't a lot to go on, but it was enough to push her toward Valparaiso University in Indiana, which had an excellent engineering program.
It was while she was a freshman at Valparaiso that Johnson discovered SWE. As a woman taking mostly male-dominated STEM classes, she says, "finding SWE was finding the support network I needed. Getting through college is hard, and it's even harder when you add on hard classes. Then factor in being a minority in those classes."
While more women are working in engineering-oriented workplaces than a few decades ago, she acknowledges, "we still struggle to get women and members of minority groups engaged in STEM fields. To have a truly inclusive society, we need engineers that represent the world, not just one faction of it. It's about making sure everyone has a seat at the table, and that they are included in the discussion and the planning. That's what we need to make this world a better place. It sounds like a cliché, but it's true."
She came to GE in 2012 with 10 years of experience in water and wastewater engineering and a newly minted master's degree in engineering management from Valparaiso. She was offered a job as a GE Energy Connections commercial manager, she explains, after pitching the idea that "water distribution systems and electrical grid systems aren't all that different, so surely I could do the job."
As it turned out, she loved the rush of adrenaline that comes with proposal management, and five years in commercial management gave her an excellent overview of the grid solutions business. From there, still looking to grow, she joined GE's Accelerated Leadership Program, a two-year rotation that included roles as global sales leader in Power Services and business development manager in Grid Solutions. She then found another skills-expanding opportunity, spending two years as a marketing intelligence leader at GE Renewable Energy.
The experiences she'd collected made her an ideal candidate for her current position at GE Gas Power, where she plays a key role in introducing new technologies to support the company's commitment to decarbonization.
Johnson served as a SWE board member for five years before she became the organization's president, and she's quick to acknowledge her GE managers for providing the flexibility she's needed to stay so involved. GE was one of the group's first two corporate members, joining with a $250 donation in 1961, and the company has a long history of recruiting at Society of Women Engineers events.
Every SWE president is asked to choose a theme for their time in office. Johnson's slogan, "A world of opportunity awaits," is a nod to the society's growing global presence (about 12% of its members live outside of the United States) and her goal of helping women engineers recognize opportunities, as Edison encouraged — and be ready to make the most of them.
Johnson has been emphasizing this message throughout her presidency, and it took center stage at WE22, the group's annual conference, in Houston last October. The closing reception was particularly memorable: At Johnson's suggestion, it featured four contestants from the popular Netflix reality competition series Baking Impossible, who constructed an elaborate spaceship cake with multiple moving parts, including a flag-waving astronaut.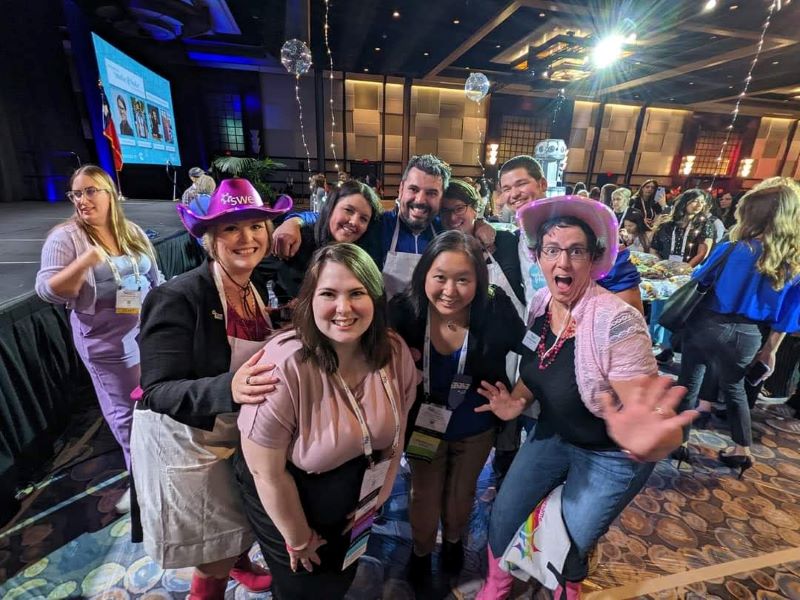 "It's an example of how engineering skills come into play in ways you never think about, like baking," she says. She's a baker herself, known among friends and family for creating one-of-a-kind cakes in the shape of beloved cartoon characters and Wrigley Field. When her father retired, she baked him a detailed, tabletop model of the power plant where he worked as an operator.
"I think 'Baking Impossible' set a high bar for the next conference," she says, laughing. She'll no longer hold the office of president, but she'll be there to support the cause and stay involved in SWE.
For more on the company's efforts to build a diverse and inclusive workplace, see GE's progress on Diversity, Equity & Inclusion, released this week as part of the 2022 GE Sustainability Report.
Categories
tags