Recognizing a still-difficult COVID-19 environment, GE Chairman and CEO H. Lawrence Culp Jr. told analysts and investors during GE's second-quarter earnings presentation on Wednesday, the company has started to see "some early signs of improvement in June and July."
Culp stressed that GE took "head-on" the challenges posed by the second quarter, executed "well operationally," and utilized actions "to further de-risk our company." He noted that "based on what we see today and the actions we've taken, sequential improvement in earnings and cash in the second half of 2020 is achievable. And, we expect to return to positive Industrial free cash flow in 2021."
GE recorded total orders of $13.8 billion in the second quarter, down 38% over the same period last year. Organic orders were down 35%. Total revenues (GAAP) stood at $17.7 billion, down 24%; industrial organic revenues* reached $16.3 billion, down 20%. Industrial profit margin (GAAP) was negative 5.7%, down 390 basis points; adjusted Industrial profit margin* stood at negative 3.2%, down 1,170 basis points. Continuing earnings per share (GAAP) were negative $0.27, including noncash goodwill, other charges and the impact of marking GE's investment in Baker Hughes to market. Adjusted EPS* reached negative $0.15. GE's cash flow from operating activities (GAAP) was negative $1.6 billion, and industrial free cash flow* was negative $2.1 billion.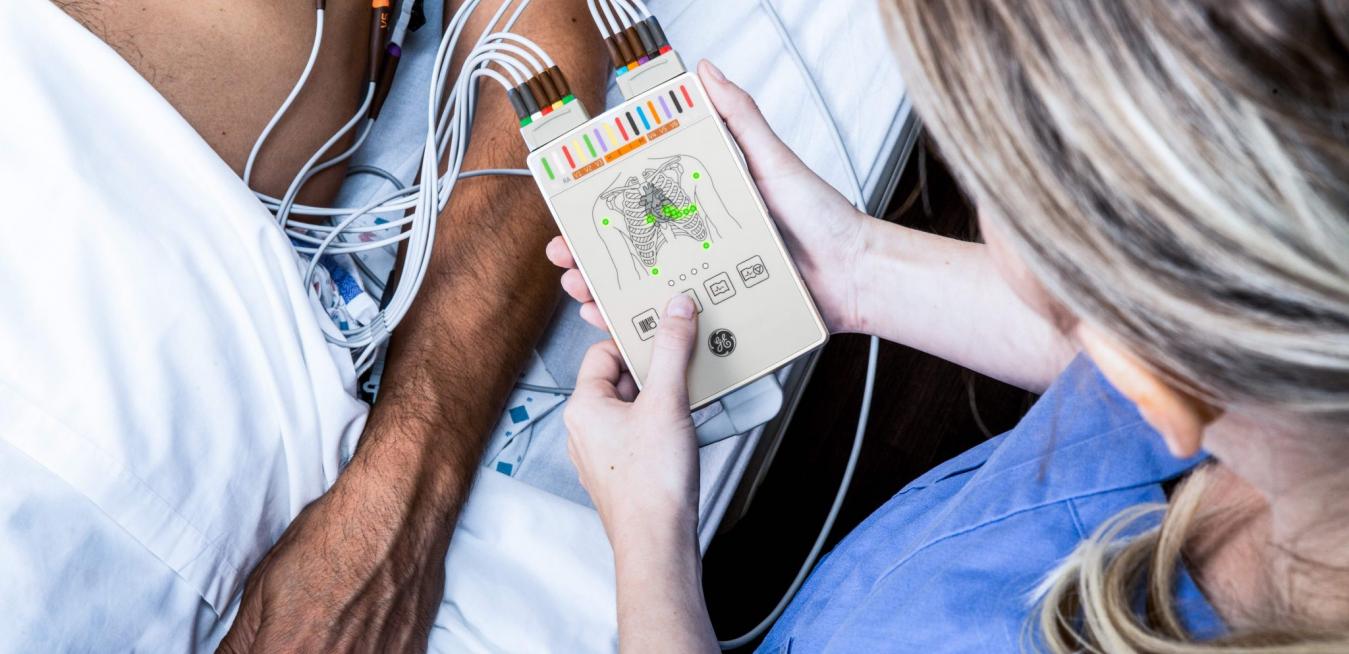 With the travel sector still suffering, GE's Aviation business and GE Capital Aviation Services (GECAS), which leases aircraft to airlines, have been facing the most severe COVID-19 headwinds. Culp said many of the trends that began in March, including airlines conserving cash, not flying their planes, limiting maintenance spend and deferring orders, remain relevant today. "We're aggressively managing these businesses with cost and cash actions and partnering closely with our customers on a daily basis," he said.
For example, with airline departures still down from pre-pandemic levels, Culp said GE Aviation was "not standing still," but "carrying half of the $2 billion in cost reductions and two-thirds of the $3 billion of cash actions for all of GE." He said GE expects that the recovery in the business "will continue to be correlated with departure trends across global fleets and per aircraft, which ultimately impacts the pace of shop-visit growth." But he also pointed out that the portion of GE Aviation supplying engines and other technology to the military remains strong, with unit growth up 10% year over year.
A decrease in departures is also affecting GECAS. To manage the downturn, the business is using a daily operational dashboard to closely monitor the situation customer by customer and ensure that it sees early where it may have repossessing or restructuring exposure. The unit has also been positioned to navigate the crisis due to the makeup of its portfolio, with approximately 60% in narrow-body jets like Boeing 737 and Airbus A320 serving many domestic flights, and only 30% in the hard-hit wide-body planes that fly on transatlantic routes. GECAS has also launched a strategic plan to extend the lifespan of such large jets by converting them into freighters. A recent partnership with Israel Aerospace Industries aims to convert 15 Boeing 777 passenger jets to cargo. Culp said, "Long-term (GE believes) the Aviation market has solid fundamentals, and we're committed to protecting the future of this business and our leadership position."
GE Aviation, together with GE Healthcare, also partnered on a project showcasing the power of lean, which is at the heart of GE's transformation. When GE Healthcare needed to quickly stand up an assembly line to boost the output of patient monitors, GE Aviation's plant in Cheltenham, England, offered space. Together, they then used lean principles to deliver many hundreds of monitors, assembling one of the devices every four minutes on average. "This certainly wasn't on Healthcare or Aviation's list at the outset of 2020 but a priority today," Culp said.
Lean is also helping GE Gas Power to innovate and introduce faster the latest generation of its record-breaking HA gas turbine, the 7HA.03. The team is leveraging lean problem-solving in the new product introduction process for the third generation of this HA turbine. This allows the business to drive efficiencies and solve potential problems earlier than ever, focusing on the present and the future.
Overall, the situation in GE's Healthcare business continues to be mixed. On the one hand, the business continues to see elevated demand for COVID-19-related products. But the deferral of other procedures keeps putting pressure on other products. "Despite these volume and mix pressures, our team held margins flat," Culp said.
During his presentation, Culp stressed that despite the current environment, GE's backlog "remains a great strength at $381 billion with about 80% in services. While services are hurting in the near-term, they have a multiyear time horizon and keep us close to our customers," he said.
He also pointed out that the company has been de-risking its balance sheet, and — by putting emphasis on maintaining liquidity in the current environment — ended the quarter with $41 billion of cash. GE also proactively extended near-term debt maturities, and continued to reduce debt. Since the beginning of 2019, the company reduced debt by $22 billion.
In closing, Culp said, "When we look back on a very challenging quarter, we will remember it as one where our team came together and met it head-on, executing well operationally and taking actions to further de-risk our company. Together, we are building a world that works."
Important information about GE's forward-looking statements.
*Non-GAAP Financial measures
In this document, we sometimes use information derived from consolidated financial data but not presented in our financial statements prepared in accordance with U.S. generally accepted accounting principles (GAAP). Certain of these data are considered "non-GAAP financial measures" under the U.S. Securities and Exchange Commission rules. These non-GAAP financial measures supplement our GAAP disclosures and should not be considered an alternative to the GAAP measure. The reasons we use these non-GAAP financial measures and the reconciliations to their most directly comparable GAAP financial measures are included in our quarterly report on Form 10-Q and the GE earnings supplemental information package posted to the investor relations section of our website at www.ge.com, as applicable.
GE's Investor Relations website at www.ge.com/investor and corporate blog at www.gereports.com, as well as GE's Facebook page and Twitter accounts, contain a significant amount of information about GE, including financial and other information for investors. GE encourages investors to visit these websites from time to time, as information is updated and new information is posted.
Categories
tags