Patrick Cassidy was working as a carpenter when he saw the newspaper notice about job opportunities at Vineyard Wind in the summer of 2019. The country's first commercial-scale offshore wind farm was being built 15 miles south of Martha's Vineyard, the island he'd called home since 1995, and he was curious. He enjoyed his work, and he was good at it, but he liked the idea of a more regular paycheck — and maybe even paid time off.
Charlie Rice, who was working as a charter boat captain that summer, saw the same notice. He'd grown up in Cambridge, Massachusetts, and moved to Martha's Vineyard, where his parents were born and raised, in 2014. He'd founded the fishing and sightseeing charter boat business with his dad in 2017. But he was feeling the economic pressure of running a seasonal, tourist-driven business. Things were booming in summer, when the island's part-time residents arrived and the year-round population of 17,000 people increased tenfold. But winters were a different story.
Today, Rice and Cassidy are among the newest crew of offshore wind turbine technicians at GE Vernova. Their job will be to service 62 Haliade-X turbines — among the world's largest, at 13 MW each—that will drive the 800-megawatt (MW) Vineyard Wind installation. When it comes online, Vineyard Wind will provide an amount of electricity equal to that used by more than 400,000 Massachusetts homes and businesses and is expected to avoid more than 1.6 million tons of carbon emissions per year. Until then, Rice and Cassidy are doing on-the-job training on the Haliade 150 6-MW turbines at Ørsted's Block Island Wind Farm, in Rhode Island, which began operations in December 2016.
"I made a conscious decision to leave the construction industry and join an industry that's new and emerging in the United States," Cassidy says.
Career Highs
He's not alone, of course. According to a 2022 report by the U.S. Bureau of Labor Statistics, the number of wind turbine service technician jobs is expected to increase 44% by the year 2031. Only nurse practitioners have a stronger job outlook.
The job isn't for the faint of heart. It requires being comfortable working hundreds of feet in the air, in tight spaces, miles from the nearest shore. A tolerance for choppy commutes to the jobsite is also helpful. Rice and Cassidy weren't concerned. "For both of us, it ticked all the boxes," says Rice. "Especially because we'd be working outdoors, on the ocean, with our hands."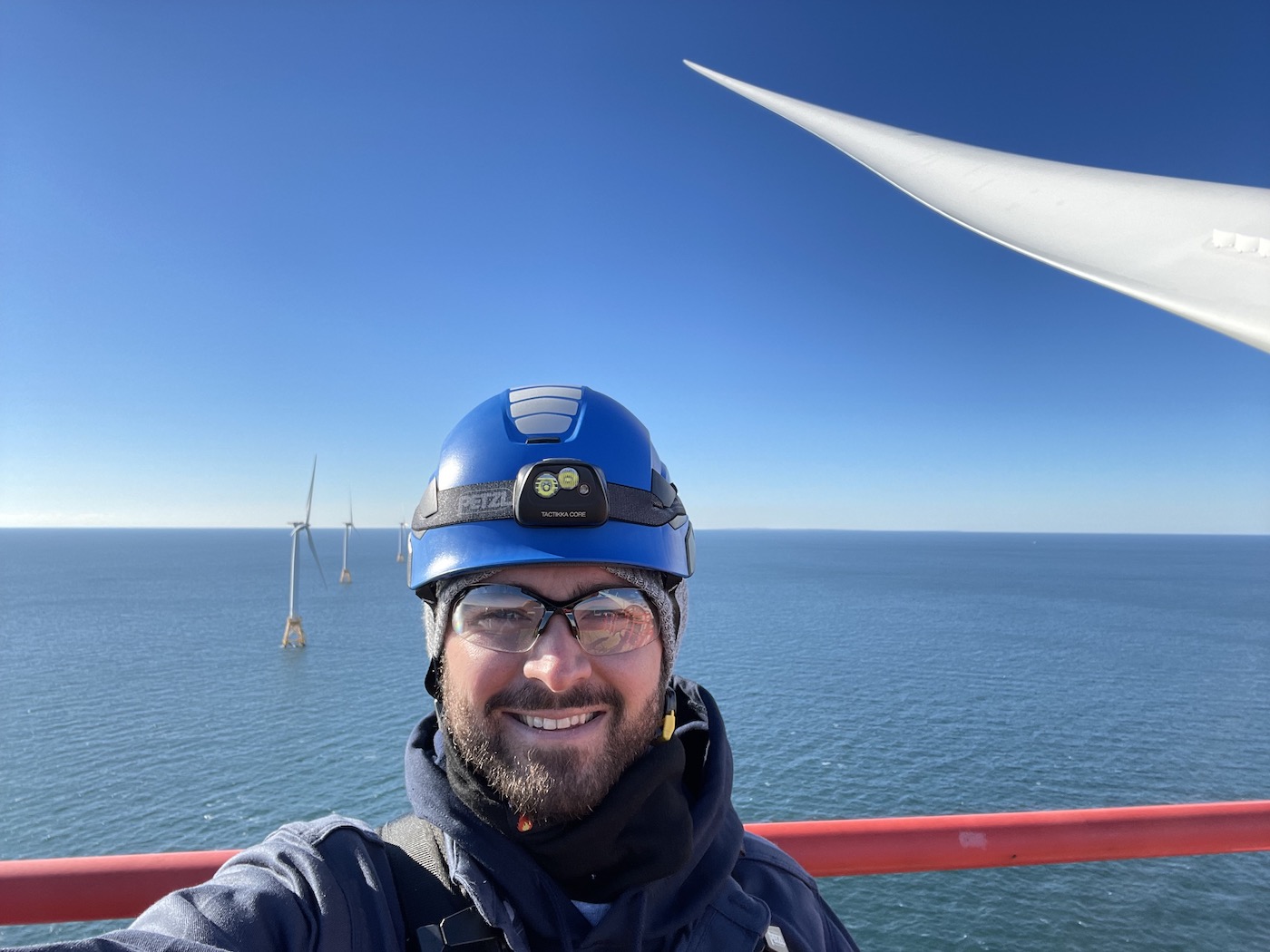 They had to undergo extensive training, drilling on everything from basic engineering and electrical machinery to turbine technology and offshore safety and rescue. They were members of the first, eight-person class to graduate from Bristol Community College's Offshore Wind Power Technician program in Fall River, receiving their certificates after a 29-credit-hour curriculum in June 2022.
Their training also included a week at a special training facility in Groton, Connecticut, for Global Wind Organization safety certification. Required in wind power jobs throughout the world — "You can't even set foot on a wind turbine without it," says Rice — that program includes hands-on courses in first aid and offshore water rescue, plus classes devoted to safety, evacuation, and rescue in each of a wind turbine's work areas. In the case of the Haliade-X turbines at Vineyard Wind, those include a 493-foot-tall tower with interior ladders that rise 80 feet to an open-sided elevator; the nacelle, which houses an immense 13-MW generator; and three 350-foot-long blades (each about as long as a football field).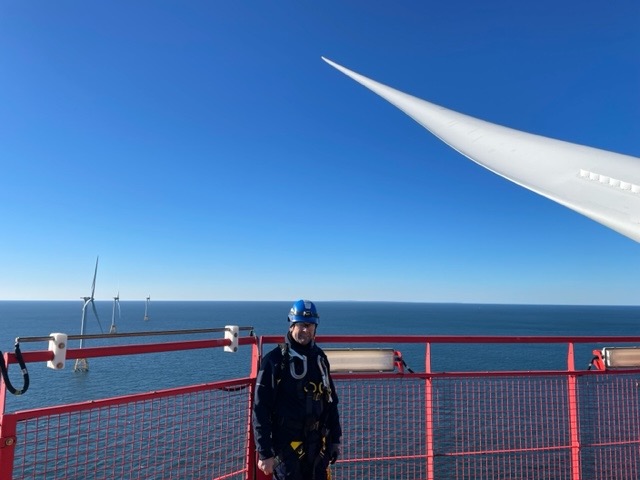 To protect themselves, offshore turbine techs wear flame-resistant clothing and other special gear, such as water immersion suits that would provide buoyancy and prevent hypothermia in case of falls while transferring from the crew vessel to the turbine. They are harnessed and clipped securely onto a safety wire, known as a self-retracting lifeline, whenever they climb ladders. They're even trained to evacuate by scaling down the exterior of a turbine tower, which should never need to happen but is a handy skill to practice just in case.
"People can't even imagine the number of safety precautions we take to make sure we're safe on the job," says Rice. Individual turbines are shut down when maintenance or repairs are performed, and technicians are never sent to work on offshore equipment when extreme winds or lightning pose threats.
Routine maintenance on the wind turbines is saved for late spring and summer when days are long and the waters along the northeast Atlantic Coast are relatively warm and calm. In winter, the technicians' work is limited to corrective repairs — replacing a salt-water-damaged wind-speed sensor, for example. Much of the diagnostic work can be done from inside the operations-and-maintenance building, on the Rhode Island mainland, using sophisticated computer software.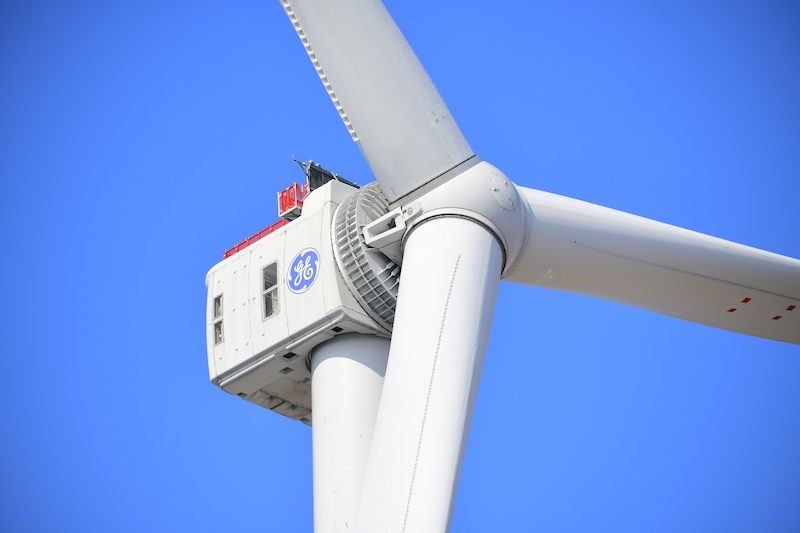 When the weather is agreeable, teams of at least three technicians board the Atlantic Pioneer, Block Island Wind's 69-foot crew transport vessel, and travel 30 miles out to the turbines, which are about three miles southeast of Block Island. Repairs can take a few minutes or a few days, depending on the issue, but the teams return to the base each evening. On some European wind farms, techs live aboard large vessels that are stationed near the turbines, for shifts that last days at a time. At Vineyard Wind, maintenance teams will work two-weeks-on, two-weeks-off rotations, allowing crew members from the mainland to sleep in on-site housing while on duty and return to their homes and families for extensive breaks in between. "That's very appealing in terms of a long-term career," says Rice. "And for people who live on Martha's Vineyard, it's always nice to have free time in the summer."
They anticipate a small but very manageable learning curve when they start work at Vineyard Wind. The Haliade-X turbines at Vineyard Wind will be much bigger than the Haliade 150s at Block Island, and there will be considerably more of them, but the computer systems will be similar and there will also be a larger maintenance team. "The models are scheduled to be installed first at a wind farm in the U.K. [the Dogger Bank site], so they might send us there for training, or maybe we'll work online with someone from there," Cassidy says.
He's certain about one thing: "There will be a huge amount of work that needs to be done as efficiently as possible, to keep the turbines generating electricity."
Categories
tags