We need just look at the world's headlines to know that the global community continues to face serious problems with conflict and instability: from gangs in Central America to cross-border tensions in Ukraine; with violent extremism on the rise in places like Nigeria and Iraq to the escalating armed conflict in Syria; with backsliding in the relationship between Israel and Palestine to recent clashes between police and protestors in Hong Kong.


Beyond the tragic loss of life, we know the long-term consequences of these conflicts affect all of us, but they can feel too big and complex to tackle as any one person, one organization or one company. More and more, the corporate community has become an active part of the peacebuilding agenda — a role that was on display in late September, when the U.N. Global Compact convened the first annual Business for Peace (B4P) event in Istanbul.

Defining What We Mean by `Peace'

The global economic cost of violence in 2012 was $9.46 trillion, which represents 11 percent of Gross World Product, according to the latest report from the Institute for Economics and Peace (IEP). These non-productive expenditures are inhibiting economic growth, adding to the many reasons to strive for more peaceful societies. Yet simply addressing economic development is not enough to transform the complex drivers of conflict, so we must be more explicit in what we are working for and how we will go about achieving it together.

Several definitions were brought forward during the meeting. IEP has two definitions: one for Negative Peace as the "absence of violence and absence of the fear of violence," and one for Positive Peace as the "attitudes, institutions and structures which when strengthened lead to a more peaceful society." Complementing this definition is the one used by a leading academic, John Paul Lederach, that "peace involves a transformation that reduces violence and increases justice in human relations." Considerations of social justice are paramount. For example, in the Israel-Palestine conflict, only using the term "peace" implies normalization of relations for many and does not fully address the need for changing the status quo.

Businesses think more readily in terms of sustainability, stability and openness for a well-functioning business environment. "Peace" may seem too political or risky as an appropriate agenda for the corporate sector. The role of business in society, however, is intricately linked with concerns over transparency, equality and inclusion — all drivers of conflict and key considerations in peacebuilding. In addition, local and international business leaders will always play an important role in helping to shape attitudes and institutions, and therefore they have a unique opportunity to make a proactive impact on Positive Peace.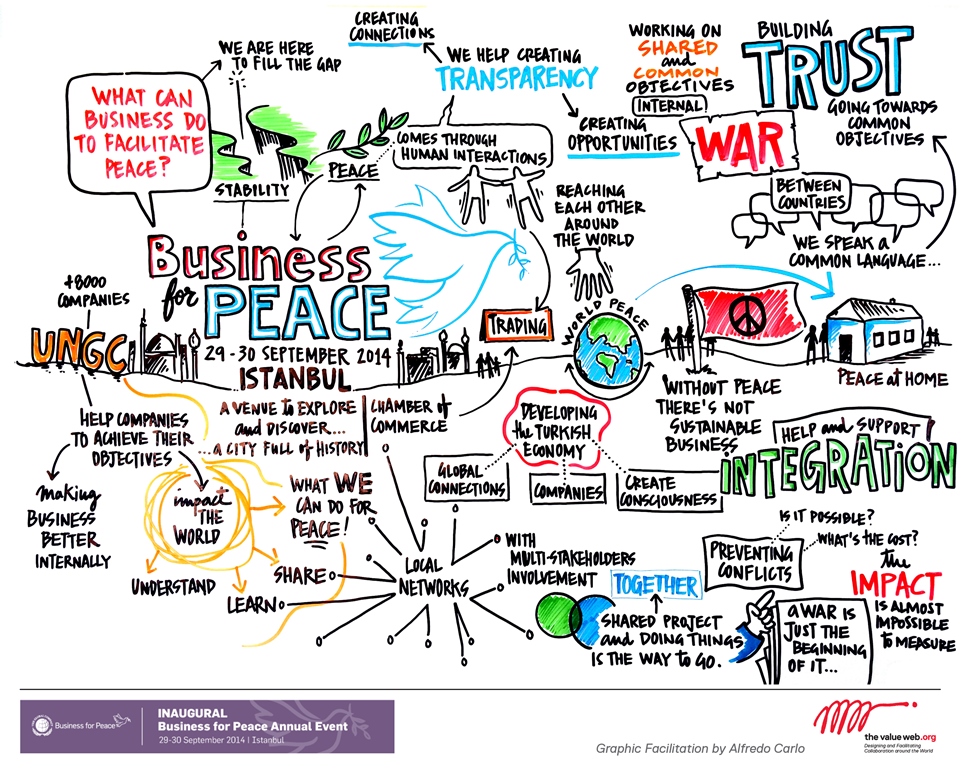 How Businesses Can Contribute to Peace

On a macro-level, businesses can provide important cross-border diplomacy. For thousands of years, trade has brought different cultures together to build understanding; and, through commerce leaders are often better equipped to use a common language and find shared goals in times of crisis. For example, in a high-profile effort in August, Richard Branson helped to bring a group of Ukrainian and Russian corporate leaders together to push for a resolution to the conflict in order to get back to doing business together.

More and more of the world's conflicts are no longer cross-border in nature, but rather internal to one country. This violence is caused by the rise of terrorism and organized crime, as well as internal sectarian divides or a people's dissatisfaction with their government leaders. Weak governance is one of the most important drivers of conflict, as many countries are ill equipped to fight these changing security threats or are rendered ineffective in achieving development because of systemic, endemic corruption. Because of our nation-state system of global governance, the international community can be slow and ineffective in holding government leaders accountable in the name of state sovereignty. Therefore, international and local civil society and businesses must jointly advocate more strongly for good governance. The Open Government Partnership is one such global platform where more business participation and leadership is needed.

Through a company's hiring practices and workforce development, there are also opportunities to contribute to peace. In a post-conflict environment, large corporations have an opportunity to transfer employees within regions to promote understanding and integration. As peace agreements are conducted by very high-level political leaders, there is always a need to consolidate peace at the local level through broad-based reconciliation and societal healing. But, as highlighted by the Bogota Chamber of Commerce, these kinds of social integration efforts have to be undertaken very carefully. Many Colombian companies now have experience hiring ex-combatants to support their national peace processes, helping in very practical ways to show that "peace is possible."

The Boston-based nonprofit CDA prepared a discussion paper for the B4P conference that succinctly laid out key points for businesses to consider in determining an approach to peacebuilding. First, the paper mentions that corporate social responsibility (CSR) programs that address social and economic development may provide substantial value, but do not equal peacebuilding. A company must take an honest look at its whole operations and be aware of and address key drivers of conflict to have a discernable impact on peace. Understanding each local context is crucial for adapting interventions to different countries or communities. For example, "an infusion of jobs and local contracts into impoverished and conflict-affected societies may be intended to improve economic development, but can exacerbate tensions when groups compete for benefits and there is discrimination in who is hired or contracted."

Companies also need to identify a clear theory of change regarding how they want to contribute to peace based on the nature of the conflict, the nature of their business, entry points for engagement, available resources and the role they seek as a corporate citizen.

From Principles to Partnerships

There are many international frameworks to promote and support businesses in their role as responsible corporate citizens: ISO 26000, OECD Guidelines, UN Guiding Principles, Hague Approach Principles and the Global Compact. But often, challenges arise when translating these principles into action in fragile or conflict-prone environments. One of the most powerful tools we have available to us in making the principles more practical is to focus on breaking down silos and building more effective partnerships between businesses, civil society and government.  For example, at Partners for Democratic Change, we have been using the Voluntary Principles on Security and Human Rights as an excuse to bring together activist organizations, extractive industries and local governments throughout Latin America to discuss their co-responsibility in achieving stability and local development. These dialogues help break down long-standing mistrust and build relationships to prevent future tensions.

In Istanbul, all participants called for increased dialogue and better partnerships. One business leader from Ukraine described how she sees entrenched misunderstandings occurring between East and West and acknowledged that there are clearly good people in her country who see things in slightly different ways. She encouraged businesses to convene and promote more local dialogues, as well as to support a change in mentality so that citizens feel more empowered and have a sense of agency to make a difference in their own lives.

One clear next step after the Business for Peace Annual Event is to focus on building sophisticated dialogue skills, specifically on convening and facilitating multi-sector collaboration locally to both analyze and confront the challenges of joint peacebuilding interventions. As a member of the board of the Alliance for Peacebuilding, we are committed to working closely with the UN Global Compact team and our corporate colleagues to continue making linkages among different efforts and to work together holistically to build a more peaceful and prosperous world.

Top image: Courtesy of Getty Images

Julia Roig is the President of Partners for Democratic Change (Partners), an international nonprofit based in Washington, D.C. that represents a network of 20 independent local "Partners Centers" dedicated to conflict and change management. Partners works with corporate and government clients to provide conflict analysis, capacity building, community engagement and the facilitation of dialogue and peaceful conflict transformation.






Categories
tags