Chandra Duraiswamy discovered his talent for steering people to a good cause when he was only 12. He was fundraising out on the streets of his hometown of Chennai, India. "I pitched this Bollywood-style concert to raise money for a new school building," he remembers. "And I convinced all these uncles and aunties to open their wallets and buy tickets," he adds, laughing at the memory.
Nearly four decades later, Duraiswamy, a senior director of communications at GE Renewable Energy's subsidiary LM Wind Power, is still rallying people for positive change. LM Wind Power manufactures blades for wind turbines, but besides telling people about how his business helps push against climate change, he also developed popular "sensitization and awareness" sessions, where he discusses with colleagues everything from ancient Sanskrit texts to Lady Gaga, to forge allies for GE's lesbian, gay, bisexual, transgender, queer, asexual and intersex (LGBTQAI+) community. Duraiswamy's sessions have become so in demand, he jokes that he has "a day job, and a gay job."
But Duraiswamy takes his mission seriously. "I'm trying to spread my sphere of influence to make LGBTQAI+ people much safer across the entire organization and increase awareness of inclusion," he says. Doing so isn't just a question of social justice, he explains, but it's also crucial for GE's bottom line. Duraiswamy has seen how people change when he puts across the business case for LGBTQAI+ inclusion. "They see the numbers and they're like, 'OK, what can we do? How can we take the next step?'"
Finding A Calling
Duraiswamy started taking steps on his own journey at the turn of the millennium. In 1999, he began a career as a chemical engineer in the U.S. after completing his master's degree in the subject at Western Michigan University. But he was itching to get out of the lab to connect with people. "I wanted to speak with the users of the products," he remembers. "I couldn't go on the sales team's phone calls with their customers, so I drew up these questionnaires for them."
He also didn't want to be pigeonholed. "I didn't want to be a 'right-brained person' or a 'left-brained person,'" he recalls. "Why couldn't I be both?"

Duraiswamy's bosses saw something special in this ambitious young engineer and encouraged him to broaden his horizons. Duraiswamy took their advice, graduating from the University of Rhode Island's College of Business in 2002 with an MBA in marketing. After a two-year stint as a market research associate in the New England state, Duraiswamy felt the call of home. "There was so much happening in India's software industry at that time," he says. "And they really needed people who understood marketing."
For the next 15 years, he worked in various marketing and communication roles across India's burgeoning IT sector, where he oversaw large global sales campaigns, produced mountains of content, and passed on his skills and experience to his compatriots. But all the while, something chafed at the naturally expressive Duraiswamy, and that was his lack of openness about his sexuality.
Since homosexuality was still illegal in India in the early 2000s, with gay sex punishable by up to 10 years in prison, Duraiswamy stayed in the closet. "I didn't want to jeopardize my life, my career and all my hard work just by coming out," he says.
A New Beginning
In 2015, Duraiswamy had something of an epiphany. His line manager at the IT company he worked for, a U.S. citizen living in the U.K., wrote a story for the company website about Pride Month. "It was a coming-out story," he explains. "It was such an inspiring read, and I wrote back to him saying, 'We are birds of a feather.'" The Europe-based manager read between the lines. Almost immediately, he entrusted Duraiswamy with a job that gave a new purpose to his career: ensuring that the tens of thousands of people employed by the company in South Asia feel welcome and safe, with a particular emphasis on LGBTQAI+ inclusion and protection.
He threw himself into the task, asking the company's local legal team for an immediate review of HR policy. "They said, 'No. It's criminal to be gay in India,'" he remembers. Undeterred, Duraiswamy found a workaround. "I brought in a battery of lawyers to draw up rules ensuring that all employees were treated with respect and enjoyed the same opportunity," he explains. "That's not criminal." It wasn't long before Duraiswamy had overhauled the HR policy of the IT company's South Asian business to ensure that LGBTQAI+ people in the organization enjoyed inclusion and protection just like everyone else.
Duraiswamy, who now felt safe enough for his own coming out, began to think bigger. "I wondered: 'how do I pitch LGBTQAI+ inclusion to straight people?'" He got management's approval to hold awareness sessions for his company's leaders. He prepared painstakingly. Drawing on years of communications experience, he wrote answers to the questions that he anticipated from skeptical colleagues. Sometimes this meant starting at square one in terms of empathy and awareness. "I remembered what some Indian people said when I came out," he says. "They asked: 'Is homosexuality unnatural? Have you got psychological issues? Is homosexuality imported from abroad?'"
His responses often referenced South Asian history and culture. For example, he'd say that India was the home of the Kama Sutra, the ancient text on eroticism and emotional fulfilment, which recognizes same-sex relations as natural and joyful. Or he'd show slides of old Hindu temples bearing sculptures of same-sex people embracing.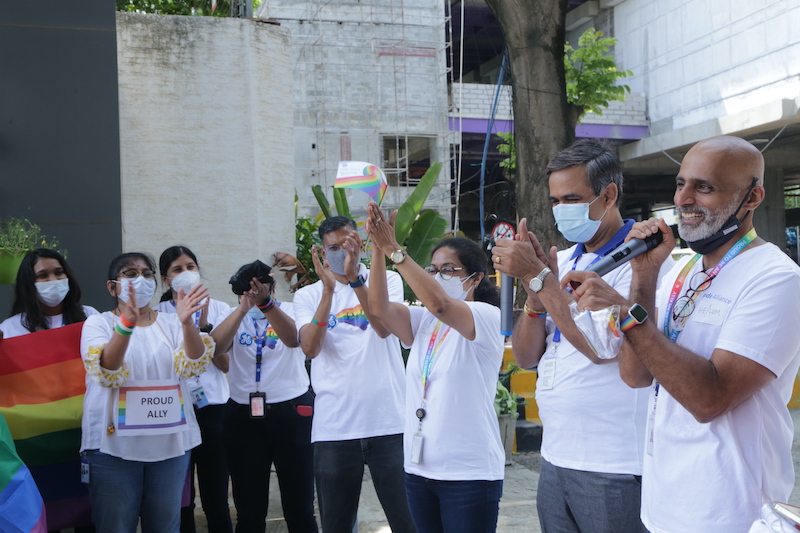 Breaking Down Barriers
It wasn't long before Duraiswamy was breaking down barriers for his company's LGBTQAI+ community. He pushed for the use of gender-neutral language in the firm's handbook and successfully championed changes that offered insurance coverage to same-sex couples. Meanwhile, attitudes in his country were also changing, and India decriminalized homosexuality in September 2018.
When LM Wind Power offered Duraiswamy his current role in early 2020, he decided to do something he'd never done before. "I asked them if they would welcome a gay person to be a part of their management team," he says. Their answer was a resounding yes, and Duraiswamy became the first openly gay member of the company's senior management.
He's since hit the ground running, heading up the South Asian chapter of GE's Pride Alliance (PA) employee group, which raises awareness around LGBTQAI+ issues, provides support for creating inclusive workplaces and develops LGBTQAI+ talent. He helped organize Pride marches at all of GE's facilities in India and at all LM Wind Power facilities around the world on June 9. Duraiswamy is also fond of the rainbow-colored wind turbine blade that adorns the foyer of LM Wind Power's headquarters in Denmark.
But Duraiswamy has goals that go well beyond a Pride march and rainbow-themed components. He wants more LGBTQAI+ people promoted to management roles, and for India's corporations to increase their funding for mentoring and training transexual people, who are one of the region's most vulnerable groups. He's also pushing to phase out heteronormative language, which promotes heterosexuality as the "normal" mode of sexual orientation. "It's about keeping our biases, prejudices and privileges in check," he says.
Duraiswamy has also brought his well-honed sensitization and awareness sessions to LM Wind Power. He chalked off nearly 50 in 2021, most delivered online because of COVID-19. The hour-long sessions, attended by up to 500 people, are a mix of empathy-building exercises, biology lessons and therapy sessions. Duraiswamy kicks off by asking attendees to recall a time when they felt excluded or bullied. "I use that as a bridge," he says. "It gets people to open up."
Then follows a crash course in gender and sexuality. "I try to educate people that these things aren't binary, but a spectrum." He'll also debunk popular myths about homosexuality, such as the misconception that it is a disease. ("Homophobia is the disease," he argues.) He'll also share the stories of LGBTQAI+ heroes, such as Apple boss Tim Cook and Lady Gaga. "These people have scaled heights because they were given the opportunity."
He puts aside plenty of time to explain the business case. For example, World Bank figures show that discrimination against the LGBTQAI+ community costs the Indian economy approximately $26 billion per year in lost productivity, or approximately 1.7% of the country's GDP. There is also a wealth of evidence that sales and productivity are higher at inclusive workplaces, while LGBTQAI+-friendly companies tend to outperform peers on the stock market and file more patents. Inclusion is also crucial to retaining talent, with one survey suggesting that 72% of full-time employees would leave an organization to join a more inclusive one. "When people are able to bring their real self to work, they're able to be much more productive, collaborative and creative," says Duraiswamy. "That means they churn out innovative products and services."
Duraiswamy, who won GE Pride Alliance's Outreach Excellence Award in 2021, knows that his own story is a testament to the benefits of awareness, inclusion and allyship. "I feel like I'm being reborn every time I get onstage," he says. "I do everything I can to roll out the red carpet for people in our workplace, just so they don't have to walk on thorns like I did. That gives me strength and inspiration."
Categories
tags