Located south of Cape Cod, Martha's Vineyard is known as a summer destination for the rich and famous. But if the island is where well-heeled vacationers go to recharge their batteries, it's set to soon be associated with another kind of energy altogether: a wind farm that's slated for installation some 15 miles offshore in the Atlantic Ocean. The 800-megawatt Vineyard Wind 1, as the project is called, will be the first utility-scale offshore wind project in the U.S. It is scheduled to start supplying clean energy to Massachusetts homes and businesses in 2023.
The wind farm will generate that energy with the help of a powerful new machine: Vineyard Wind announced this week that it had selected GE Renewable Energy as the preferred turbine supplier for the project. The preferred turbine? GE's Haliade-X — the most powerful offshore wind turbine in operation. "This is a huge moment not only for the future of our project, but also for the future of an industry that is poised for exponential growth in the coming decades," said Vineyard Wind CEO Lars T. Pedersen.
The news cements GE Renewable Energy's role in the development of offshore wind power in the U.S. Five of the company's Haliade 150-6MW turbines are already producing electricity off the coast of Block Island, Rhode Island, at what is the first offshore farm in the United States. The company's Haliade-X machines have also been selected for two wind farms off the coast of New Jersey and Maryland that are being planned by the Danish renewable energy company Ørsted.
The Vineyard Wind news is the latest milestone for the Haliade-X in a season of them: Last month the machine received its type certification, signifying that it will operate safely, reliably and according to design specifications — and giving GE's customers the ability to obtain financing when purchasing the turbine. GE designed the Haliade-X to generate 12 megawatts, but the company found through testing a prototype in the Netherlands that it could outperform its original goals and reach 13 megawatts.
In September, GE also signed the first contract for the Haliade-X, agreeing to supply 190 turbines to the Dogger Bank wind project in England's North Sea. Scheduled for completion in 2026, it's expected to be the world's largest offshore wind farm.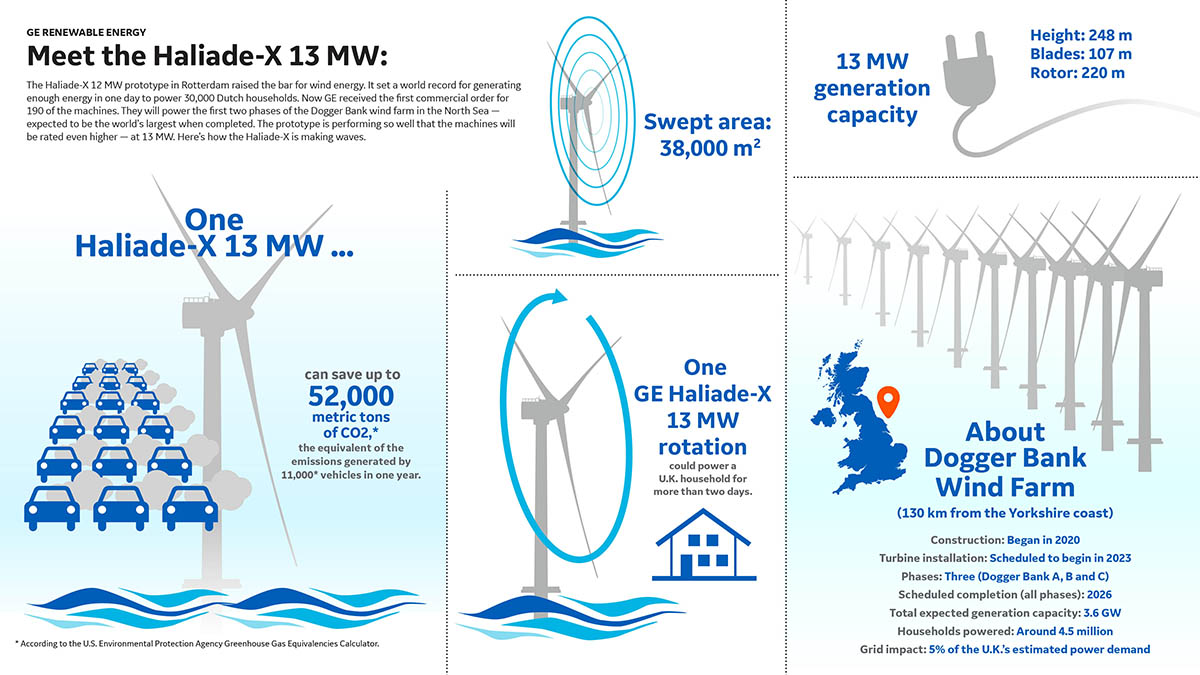 Categories
tags