Reporting GE's year-end and fourth-quarter results for 2020 today, GE Chairman and CEO Larry Culp said the company delivered "significantly improved" profitability and cash performance in a difficult year. "We are in leading positions to capture opportunities in the energy transition, precision health, and the future of flight," Culp said. "As we continue our transformation, we remain focused on strengthening GE and delivering value for the long term."
Those opportunities and that strength can grow because of GE's perennial focus on innovation, and last year was a good example. GE developed and introduced technologies that help address some of the world's biggest challenges such as energy transition to more renewables, climate change and, of course, the pandemic. It did so with top notch engineering and also by artificial intelligence, data analytics, and other digital technologies. Here are a few examples.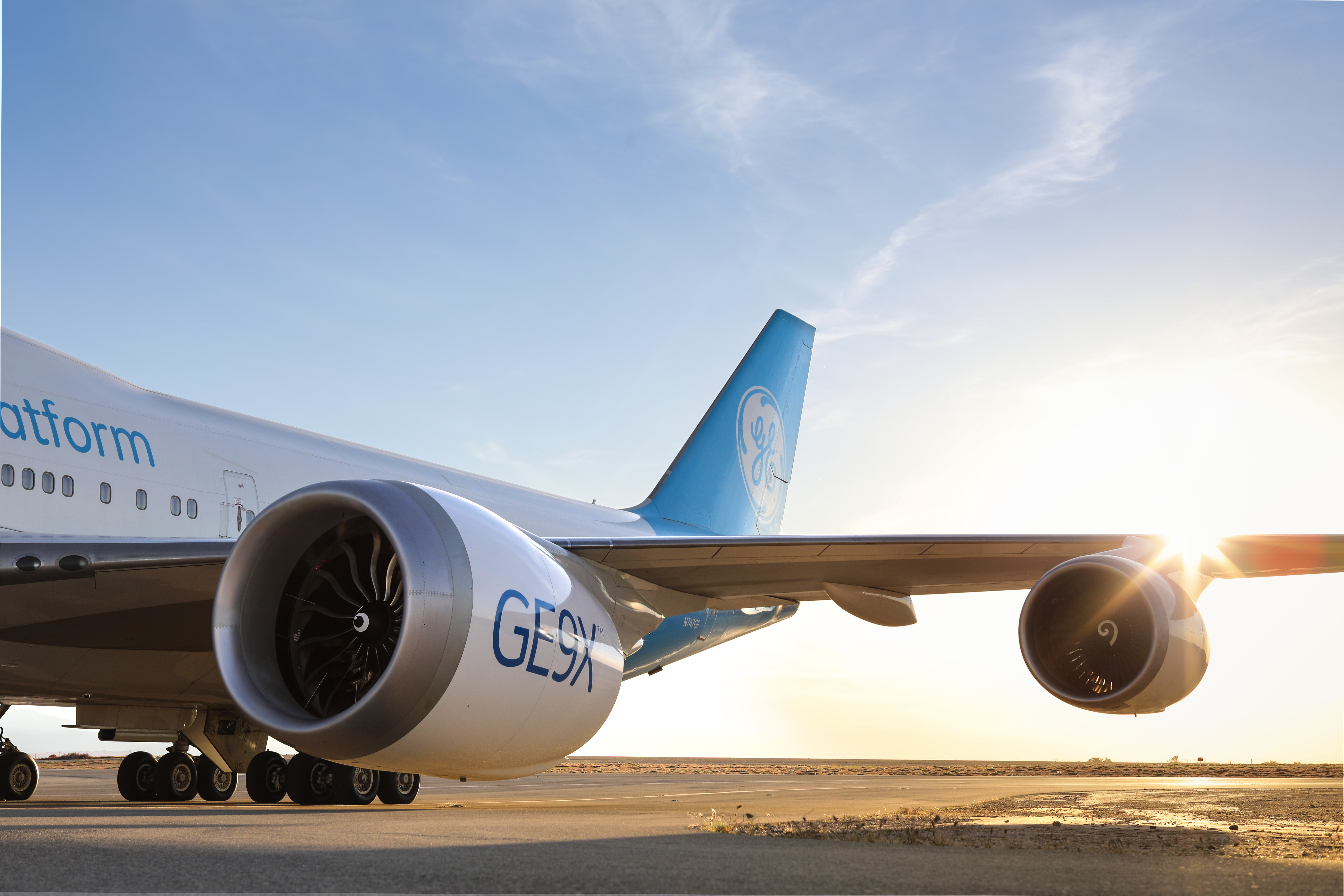 A couple decades ago, engineers from GE Aviation canvassed customers to learn what they wanted in an ideal jet engine. They turned up a list of about 300 items, with one wish firmly at the top: fuel efficiency. That's no wonder, given that fuel accounts for close to a fifth of an airline's operating costs. Those engineers got to work — and came up with the GE9X engine. Together, the engine and the plane it was designed for, the Boeing 777X, are expected to be 20% more efficient than their predecessors. But efficiency isn't the only thing this machine has going for it, though. It's also the most powerful jet engine in existence.

Last fall, the Federal Aviation Administration certified the GE9X, meaning that GE could start manufacturing engines for commercial service. The milestone came after a testing process that was long and grueling, at least from the engine's standpoint. The engine is tough but it's also cutting-edge: The GE9X achieves its efficiency gains partly through the use of lightweight but heat-resistant ceramic matrix composites, as well as 3D-printed parts. And the engine is smart, incorporating big data and analytics to help airlines save time and money. GE Aviation senior engineering executive Karl Sheldon summed it up: "We've developed an aircraft-engine combination that I honestly think is going to be unbeatable in the marketplace."


The Boeing 777 is considered a workhorse of long-haul passenger aviation, ferrying travelers nonstop between continents powered by two giant GE90 jet engines under its wings. But today, these stalwarts of the skies are finding another purpose — as cargo jets. With cargo traffic expected to grow in coming years, GE Capital Aviation Services is seeking to meet that projected need by converting passenger planes to freighters. In 2019 the company teamed up with Israel Aerospace Industries on a 777 conversion program, and last year Michigan-based Kalitta Air agreed to lease three converted Boeing 777-300ERSF (with the "SF" standing for "special freighter") widebody jets from GECAS. Russia's S7 Airlines also leased two 737-800 Boeing Converted Aircraft (BCF) freighters from GECAS.

Converting a Boeing 777 to a cargo jet is no mean feat, involving some 200 people and roughly 39 months from first blueprint to first payload. The team needs to cut major sections of the fuselage for a new cargo door, for instance, and install a rigid barrier inside the plane that can withstand forces up to 9 Gs. "What we're witnessing is really a re-engineering of the aircraft," said Richard Greener, senior vice president and manager of GECAS Cargo. But all that hard work should pay off: Boeing projects that the market segment will double over the next 20 years, and that the world's freighter fleet will expand from about 1,870 to 3,260 freighters. More than 60% of the new volume will be passenger-to-freighter conversions.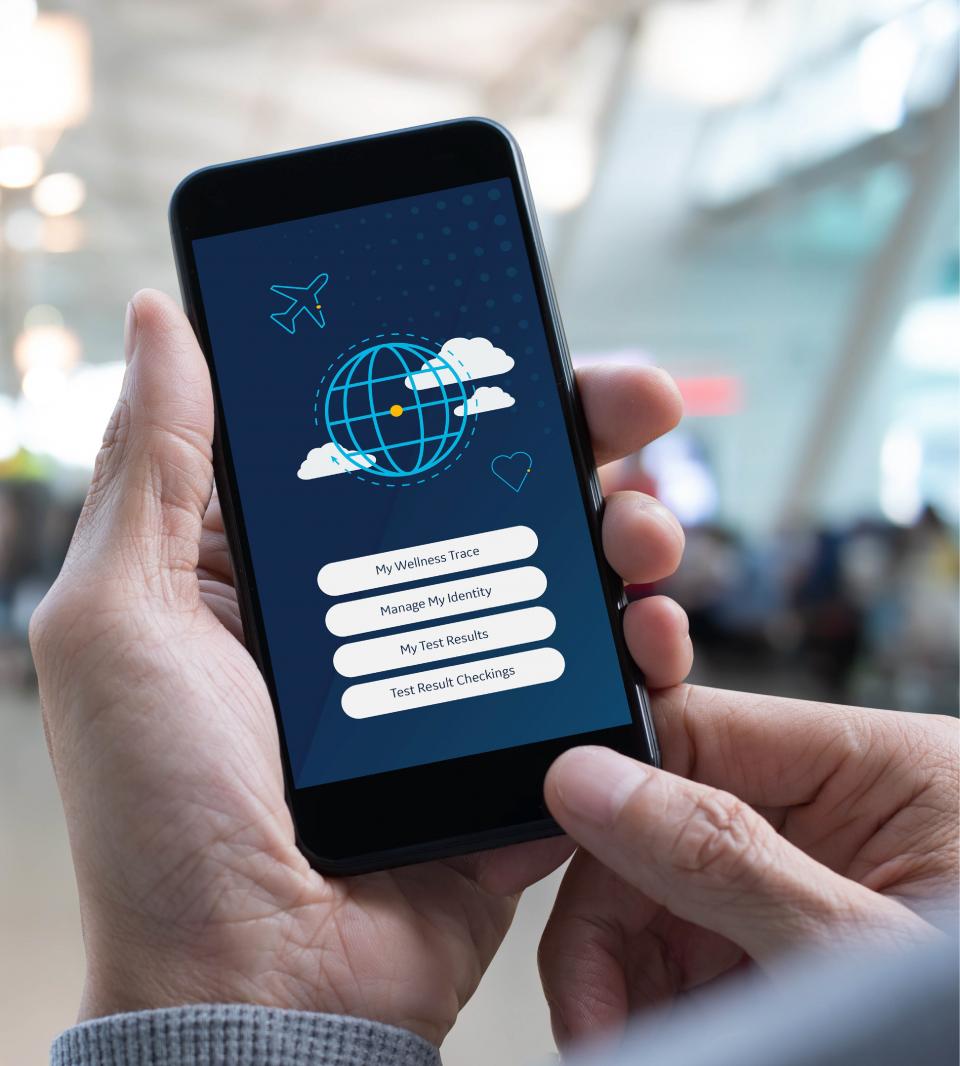 Flyers passing through the Albany International Airport may notice a new, albeit subtle, addition these days: stickers attached next to the bathroom entry door, check-in counters, even the food court. They may not look like much, but they could have a part to play as the aviation industry seeks to reassure passengers who might be uneasy about flying in the COVID-19 era. The stickers are affixed with QR codes that anyone can scan with a smartphone, then learn the last time that bathroom was cleaned, or when that check-in counter was sanitized. GE Aviation developed the app, which is called Wellness Trace, through a partnership with TE-FOOD, a company that uses blockchain to track the food-supply chain, and the laboratory testing company Eurofins.

"After 9/11, the industry set up the Transportation Security Administration, introduced PreCheck and fortified cabin doors — big things you could see," says Andrew Coleman, senior vice president and chief digital officer at GE Digital. "Today, improvements aren't so physical, because we're fighting something you can't see." Coleman says Wellness Trace can give passengers "digital eyes" throughout their journeys. The Wellness Trace pilot program is the first step in turning the Albany airport into a sort of "digital incubator" that will explore a battery of cutting-edge technologies, including artificial intelligence and machine learning, with the aim of improving safety and transparency.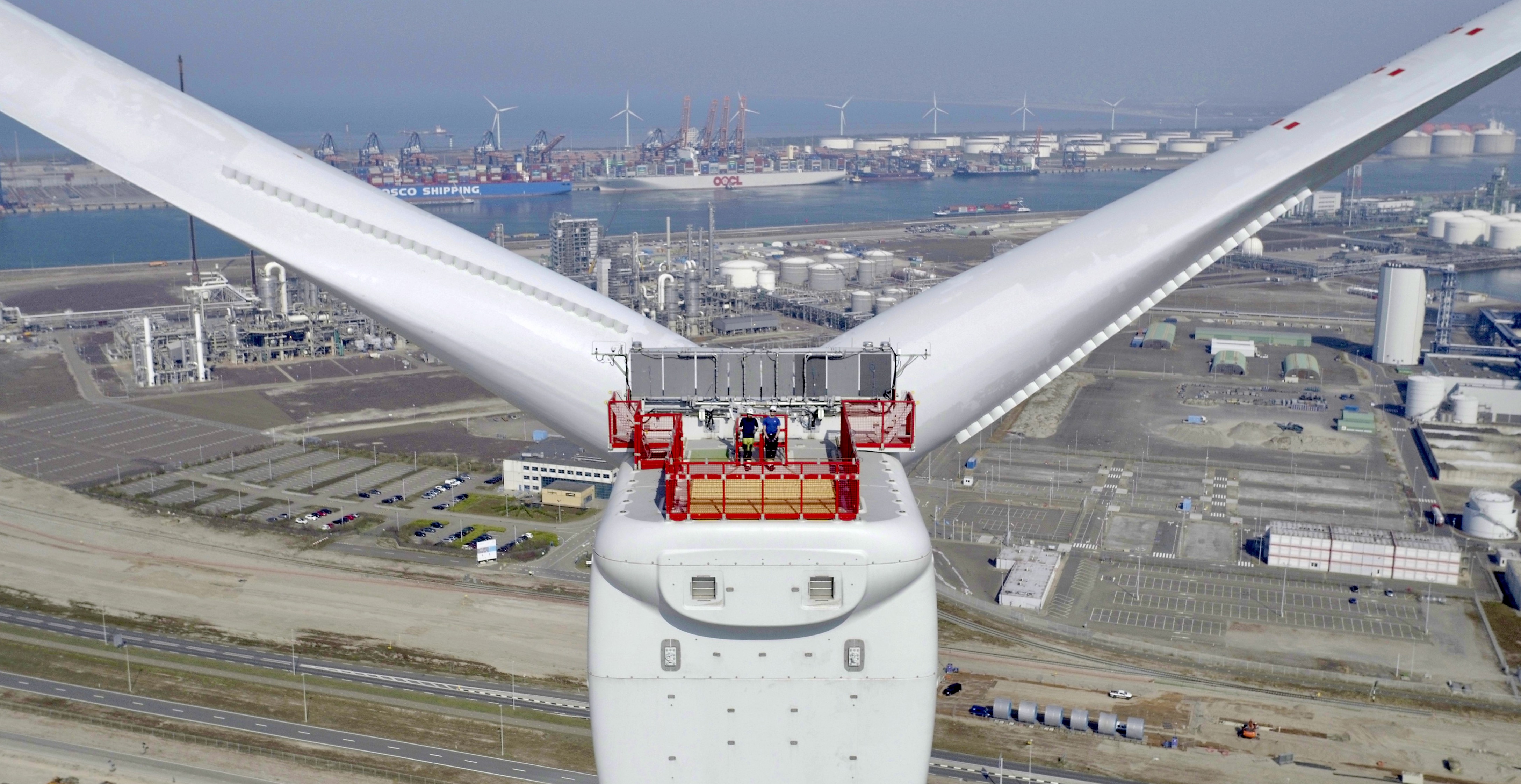 In late 2019, the GE Renewable Energy's Haliade-X offshore wind turbine set an important record when a working prototype of the machine, located at the Port of Rotterdam, produced 288 megawatt-hours of energy in just 24 hours — the equivalent needed to power 30,000 households in that area. But that was not quite enough for the Haliade-X, which bested its own record about a year later: In October 2020, the machine produced 312 megawatt-hours of energy in a 24-hour period. That wasn't the only big news the Haliade-X generated last fall, either: It also received its full "type certificate" from the independent certification body DNV GL, affirming that the Haliade-X will operate safely, reliably and according to design specifications.

"This is a key milestone for us as it gives our customers the ability to obtain financing when purchasing the Haliade-X," said Vincent Schellings, who leads development of the turbine for GE Renewable Energy. The first deals for the Haliade-X, the most powerful offshore wind turbine in operation today, include a contract to deliver 190 of the mighty machines to Dogger Bank A and Dogger Bank B, the first two phases of what will be the world's largest offshore wind farm, located in the North Sea some 130 kilometers off England's Yorkshire coast. In 2021, GE also signed a deal to supply the machines and services to Ocean Wind, a 1.1-gigawatt wind farm of the coast of New Jersey. Wind projects Dogger Back C, the third phase of the U.K.'s Dogger Bank wind farm, and Vineyard Wind in Massachusetts chose GE as the "preferred" turbine supplier.

The Haliade-X offshore wind turbine was designed to evolve with the market, and evolve it has. The initial model produced 12 megawatts — and even at that level, a single rotation of the machine's blades could generate enough power for one U.K. household for two days. But when engineers tested a Haliade-X prototype, they found it could produce 13 MW and 14 MW. In fact, GE talks about the Haliade X as a technology platform that can be optimized for wind farms around the world.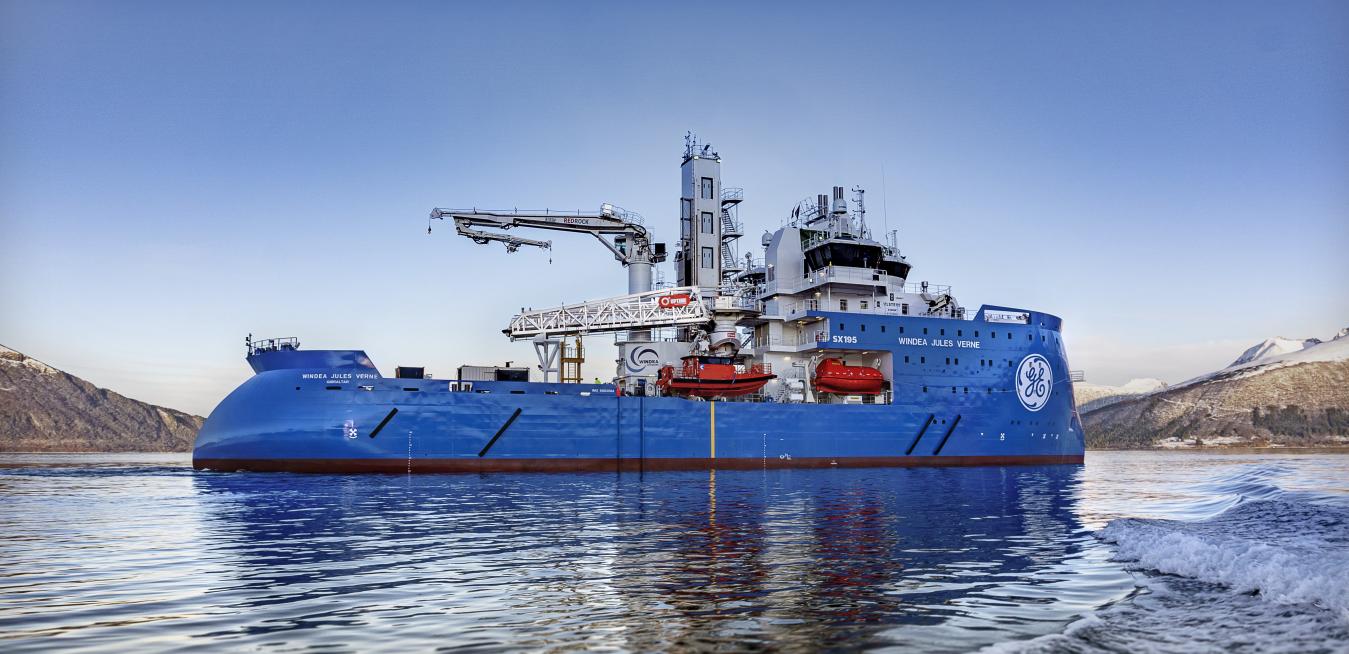 If your car needs an oil change, you drop it off at the shop and pick it up later. Maintenance becomes an order of magnitude more difficult, though, when the machine in question is a powerful offshore wind turbine. Enter Brice Lavault — and the smart vessel that helps him do his job. A marine operations leader for GE Renewable Energy, Lavault works aboard the Windea Jules Verne, which sails from turbine to offshore turbine for maintenance and preventative work. The striking blue vessel, specifically designed for the GE business, plies the chilly waters of the North Sea, 55 kilometers off Germany, and the engineers who sail with it keep tabs on the Merkur Offshore Wind Farm — which comprises 66 GE Haliade 150-6MW turbines, capable of supplying the equivalent of up to 500,000 European homes.
The ship is a mission control center, workshop and hotel in one, with room for a permanent 20-member crew and dozens more passengers, including engineers — and a whole lot of high-tech bells and whistles. Its positioning software, for instance, ensures that the vessel bobs safely at a 20-meter distance from each turbine tower; technicians move back and forth via a gangway that is "motion-compensated," which is to say that it can telescope steer, and turn quickly to adjust. "It can deal with waves up to 2.5 meters…and wind speeds of up to 20 meters per second, which are pretty extreme conditions," Lavault said.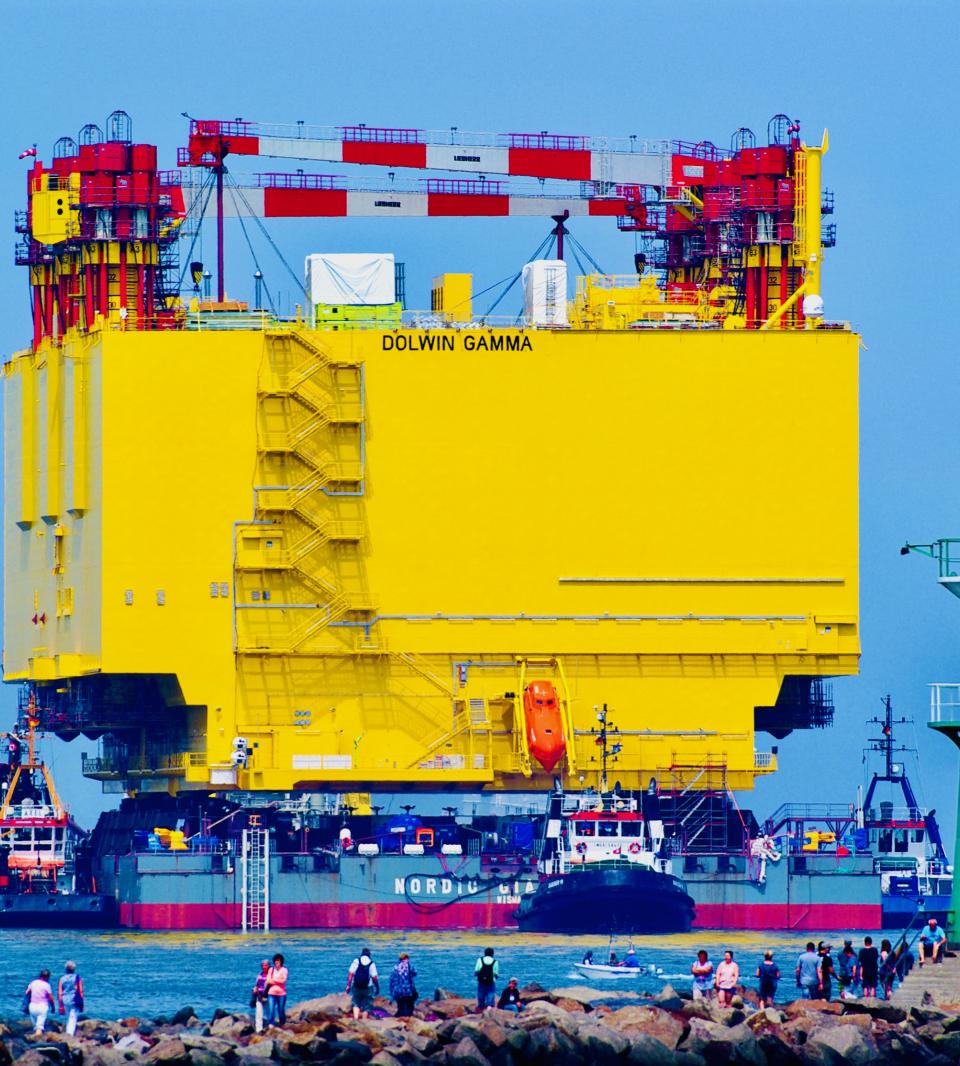 Wind farms popping up in seas around the world is a powerful development, as offshore breezes will help many countries realize ambitious renewable energy goals. But there's a lot going on beneath the surface of those blustery seas, too. Once the turbines generate the electricity, it's got to get to the dry land, which is sometimes many miles away. That, in turn, involves impregnable offshore fortresses called converter stations, which pool the electricity generated by the dispersed turbines and package it for transmission via an undersea cable. And it involves high-voltage direct current, or HVDC. The latest generation of this power transmission tech will be an important element of a new wind farm going up in the North Sea off the coast of England.

Conceived by the utility giant RWE, the Sofia wind farm will generate 1.4 gigawatts when it comes online in the middle of the decade. In 2020, GE Renewable Energy's Grid Solutions division won a contract, together with Sembcorp Marine, to bring electricity from Sofia through a 220-kilometer-long subsea cable that will terminate near the U.K. city of Newcastle. GE will build one of the most powerful and most remote offshore HVDC converter stations in the world for the project, an ambitious undertaking that relies on expertise the company has gained over the years at its HVDC research park in Stafford, England. The heart of the station will convert the alternating current from the turbines to direct current for efficient transport; the brain of it will be sophisticated digital controls that give operators a comprehensive view of the entire system.
In December GE released a report detailing how natural gas can help power a future with lower carbon emissions: With the output of renewables like wind and solar linked to weather, gas turbines can step in quickly to keep the electric grid in balance. But natural gas isn't the only fuel those turbines can process. They can also run-on hydrogen, the universe's most abundant element, which can yield zero CO2 emissions at the plant site. And they can also run on a mixture of gas and hydrogen. Now a proof of that concept is rising on the banks of the Ohio River. GE is working on the first purpose-built power plant in the U.S. where a turbine from the company's most advanced turbine fleet — the HA — will start burning a blend of natural gas and hydrogen. It aims to transition to 100% hydrogen by 2030.
Scheduled to come online this fall, the 485-megawatt plant in Hannibal, Ohio — operated by Long Ridge Energy Terminal — will have enough capacity to light the equivalent of 400,000 U.S. homes. The technology is something GE has experience with: More than 75 GE gas turbines have already racked up over 6 million operating hours running on hydrogen or hydrogen-like fuels. At first, hydrogen will constitute 5% of the overall fuel mix going into the turbine in the Hannibal plant, which plans to increase that proportion over time until the machine runs solely on hydrogen — which would eliminate approximately up to 1.6 million tons of CO2 emissions annually.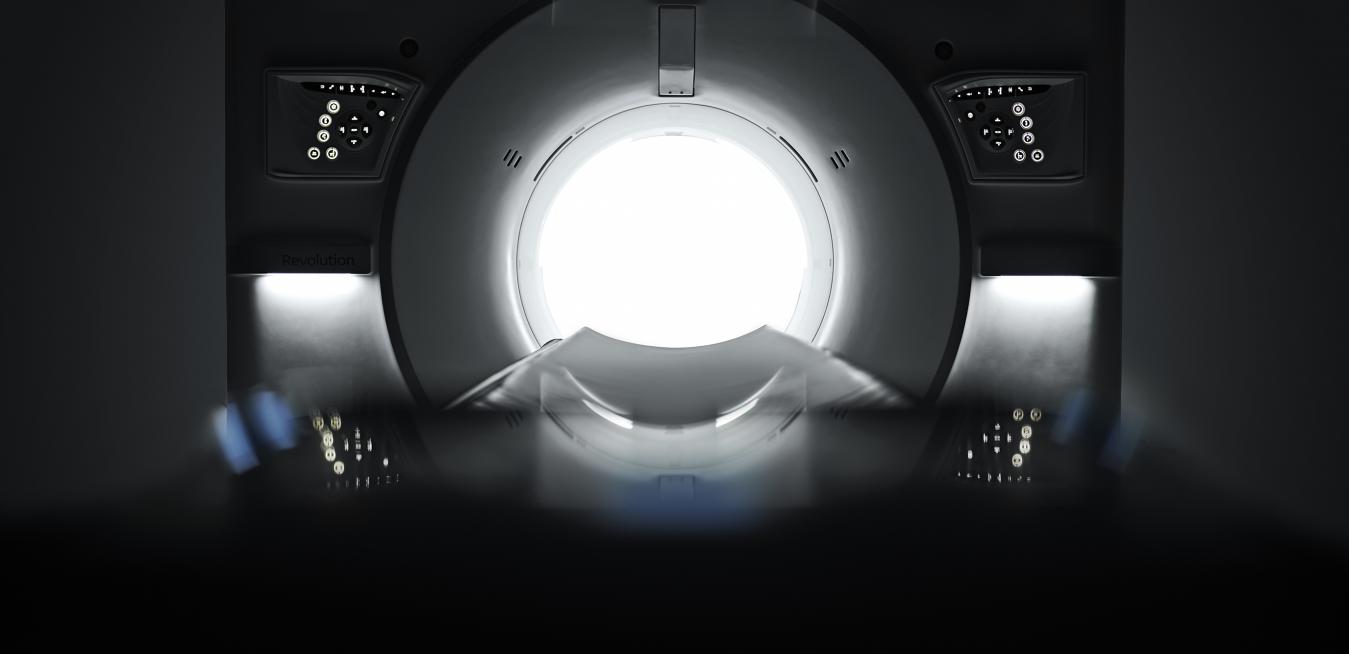 In 1895, the German physicist — and future Nobel laureate — Wilhelm Röntgen was experimenting with an electrified glass vacuum tube when he noticed that it produced mysterious rays that could pass through solid objects. He called them X-rays and launched the field of radiology. Soon Elihu Thomson, GE's co-founder and first chief scientist, took up Röntgen's work, designing an X-ray machine that could diagnose bone fractures. [1] And Thomson pushed GE to open the research labs where another scientist, William Coolidge, and researchers who followed him would advance the field even further — toward technology like computed tomography, or CT. [2]
Now, engineers at GE Research with their colleagues at GE Healthcare and the Swedish startup Prismatic Sensors AB hope to alter radiology's course once again. The researchers have found a way to vastly expand CT's already impressive imaging powers. The team invented a new way to capture and analyze the X-rays passing through the body and render them into minutely detailed images of the heart, say, or of nodules inside the lungs. They say their method is designed to enable doctors to see deep inside the human body with greater clarity and specificity while exposing patients to less radiation than traditional CT scans.
Their approach, which took decades to develop, uses a technique called photon counting and involves hypersensitive X-ray detectors made of "Deep Silicon" technology — a critical component that was difficult to develop. "We believe this technology has the potential to be a substantial step forward for CT imaging that will benefit millions of patients worldwide," said Kieran Murphy, president and CEO of GE Healthcare.
In an indication of how momentous the promise of this technology is, GE Healthcare announced plans last year to acquire Prismatic — GE's first acquisition since Larry Culp became the company's chairman and CEO in 2018. "We believe this technology has the potential to be a substantial step forward for CT imaging that will benefit millions of patients worldwide," said Kieran Murphy, president and CEO of GE Healthcare.
[1] "Elihu Thomson X-ray system." General Electric Company. <https://artsandculture.google.com/asset/elihu-thomson-x-ray-system-general-electric-company/DQF2_jkXa8GdIQ?hl=en>
[2] "General Electric Research Lab: A hotspot for innovation on the plat for the last 111 years." Edison Tech Center. <https://edisontechcenter.org/GEresearchLab.html>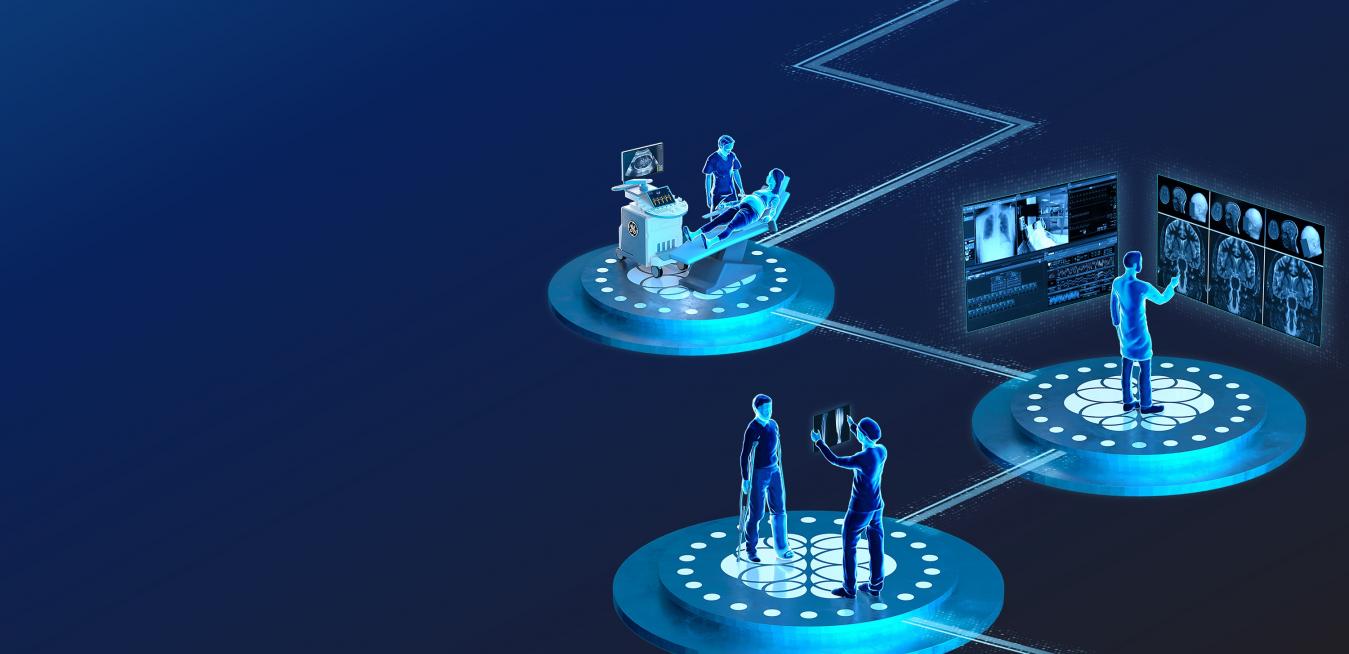 The last time you bought a new car, you probably didn't just write a check. You took it for a spin to see how it handles. GE Healthcare said in December that it would soon offer a similar service to hospitals interested in buying its latest software powered by artificial intelligence (AI). "This is a big deal for the healthcare industry," says Ken Denison, vice president of digital platform and product marketing at GE Healthcare. "It's rare to have the option to quickly find things, try them and decide to buy them or not."
The option will come to life through Edison Marketplace[1], a future online store that will allow customers to find, try and buy algorithms from a range of third-party developers. Edison Marketplace is a key component of GE Healthcare's AI software platform named after America's father of invention and GE co-founder: Thomas Edison.
Some of the AI apps now available[2] help doctors glean insights into clinical data and improve outcomes. Radiologists can find applications that assist in the identification of breast cancer or prioritization of cases with possible collapsed lungs. Other apps could allow emergency physicians to track the extent of COVID-19-triggered pneumonia.
[1] Technology in development that represents ongoing research and development efforts. These technologies are not products and may never become products. Not for sale. Not cleared or approved by the U.S. Food and Drug Administration or any other global regulator for commercial availability.
[2] App availability varies depending on region. Please contact your GE Healthcare representative for more information.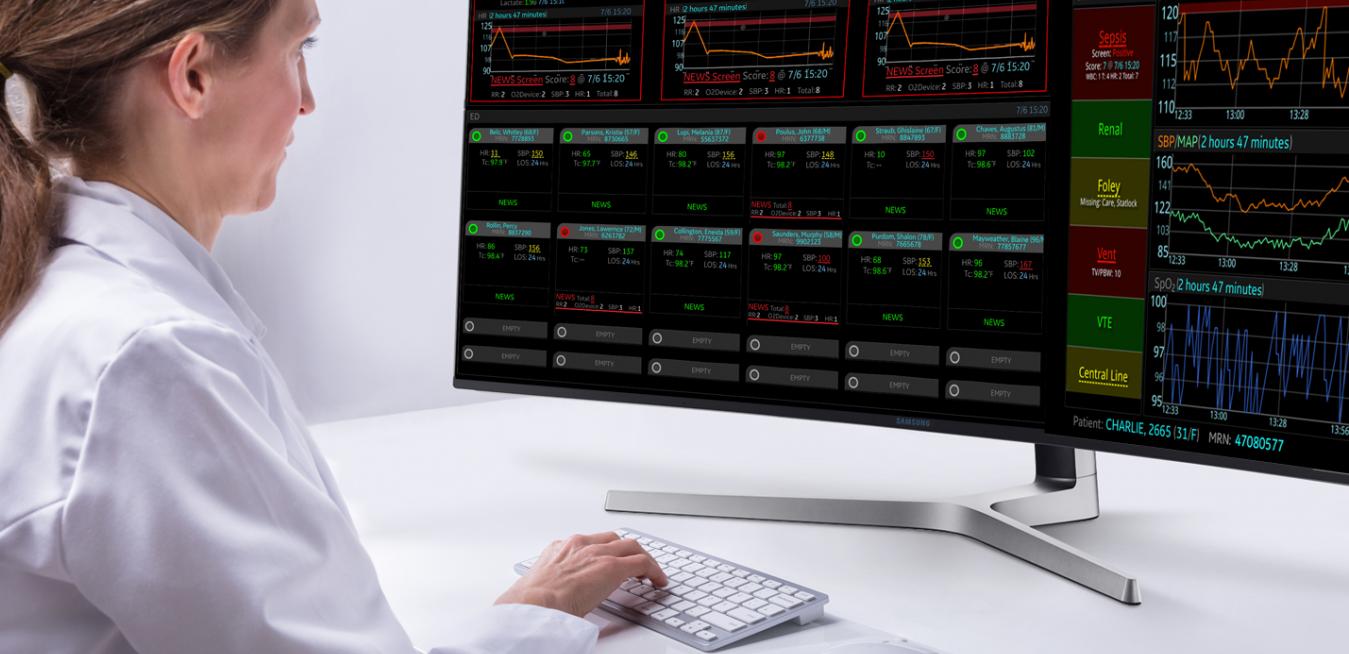 Doctors and nurses are, by nature, resourceful problem-solvers, using the tools they have available to save as many lives as possible. During the COVID-19 pandemic, that means finding new ways to observe their patients while lowering their own risk of infection and addressing the shortage of personal protective equipment (PPE).
The intensive care unit, or ICU, is one particularly critical area of the hospital that often brings together the sickest patients and many caregivers needed to frequently check on patients. As a result, nurses in one California hospital in an urgent need of a solution have reportedly turned to baby monitors to check on patients from afar.[1]
Sadiq Syed, general manager of GE Healthcare's Clinical Care Solutions segment for clinical software & informatics, and his team thought there must be a more comprehensive way to solve the problem. Last July, the team launched Mural Virtual Care Solution, designed to help hospitals remotely track protocol compliance across care areas in a hospital. Syed thought it could be quickly modified to address clinicians' needs related to COVID-19.
Mural Virtual Care Solution, which is enabled by Decisio Insights – a standalone 510(k) cleared device — allows doctors and nurses to access the status of many ICU patients in one central place. They are able to drill down into each patient dataset based on hospital defined prioritization and take a closer look at their vital signs in near real time, manage hospital defined protocols around lung protection and ventilation weaning, activate audio/video feeds of the room, and consult information in their electronic medical records.[2]
[1] Baby monitors in the ICU: Nurses get creative to save lives, critical equipment, ABC News, April 1, 2020.
[2] The Mural Virtual Care Solution COVID-19 offering does not provide all options available in the Mural Virtual Care Solution. Refer to the website for additional details.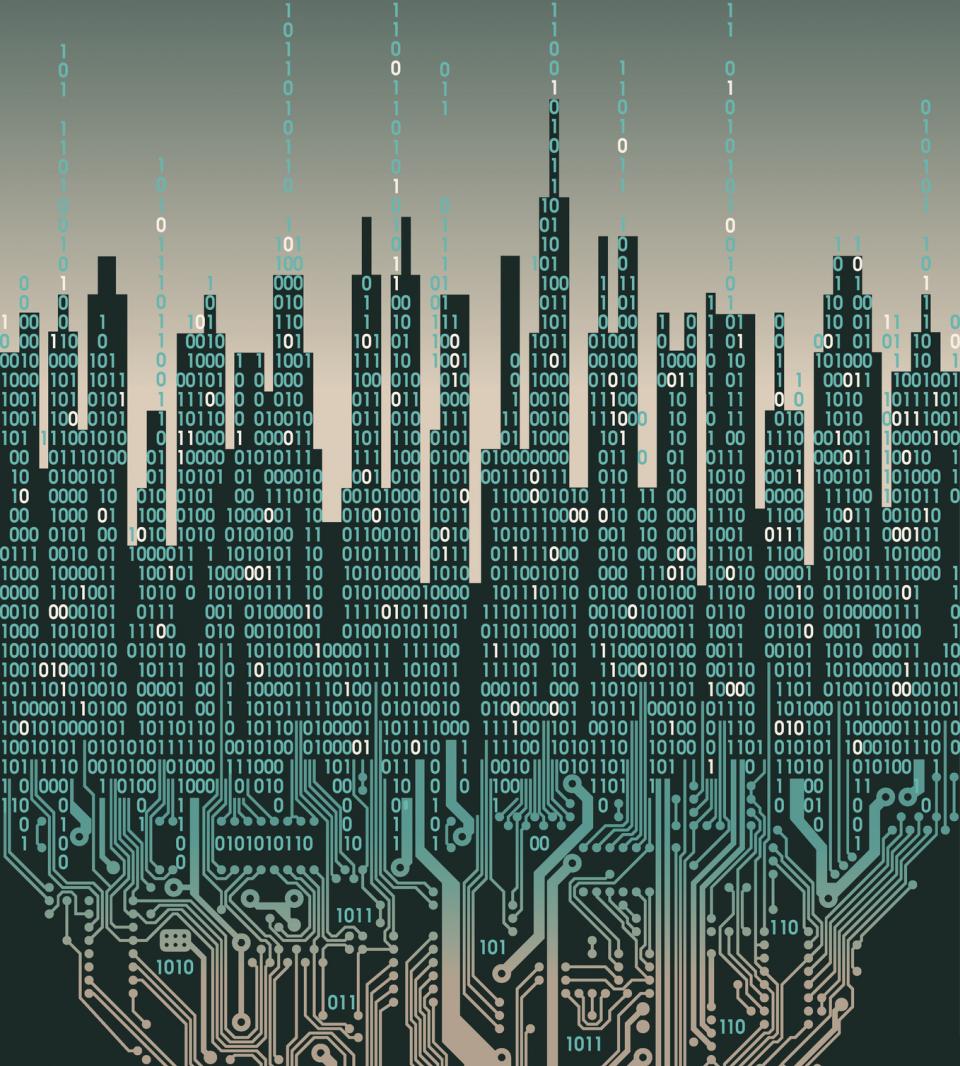 In 2019, Pat Byrne became CEO of GE Digital, which builds software applications for the industrial internet of things. Digging into the work, Byrne and his team visited customers in manufacturing, power generation and other sectors to help them learn from the data their machines, power plants and factories were producing. Even in normal times, such digital capabilities are invaluable: Data analysis can help predict the need for maintenance, for instance, before it arises. And it's proving especially useful as the world grapples with the wide-reaching effects of the COVID-19 pandemic. In an interview with GE Reports last year, Byrne explained how.
Part of what Byrne and his colleagues offer is software that enables workers to, say, monitor a municipal water treatment plant from a laptop on a virtual private network. The ability to be agile set them in good stead as more workers were asked to work from home, and it should help them manage operations into the future, Byrne said: "The longer this situation lasts, the more demand there will be on connected machines, artificial intelligence, machine learning, business analytics and other tools that allow business processes to be optimized and improved. And the better these systems get, the more they will become the new normal." (The benefits of "data" can sometimes be an abstract thing to explain — click here to learn how a couple of GE engineers used toy bricks to demonstrate just how smart a connected factory can be.)
*GE9X and Haliade-X are GE trademarks.