Piotr Kozłów vividly remembers when Ukrainian refugees started streaming into Poland as the Russian invasion began earlier this year. An engineer with GE Steam Power in Elbląg, a city on the Baltic Sea in Poland, Kozłów was one of the volunteers who greeted them. Arriving by the thousands at railway stations and border checkpoints, they were mostly women, children and elderly people. They'd had little time to prepare for their journey and no idea when they might be able to return home.
"Many of them spent long days trying to escape from horrifying situations to save their lives," says Kozłów, who helped at a reception center in his hometown of Gdańsk, about 40 minutes away from Elbląg. "They often came with just one suitcase or a plastic bag."
Kozłów and GE colleagues in Elbląg's Steam Power, Field Core and Gas Power divisions have come together to establish a network of volunteers and to design creative ways to help. They've gathered donations of food and hygiene products, and they support local charities. Working with a local Greek Catholic church, they organized an Easter breakfast for 120 people. They donated 50 laptops and school supplies to Polish schools that are hosting Ukrainian students. Employees in one office building in Elbląg held a bake sale and raised $1,000. Some GE employees in Elbląg have even hosted Ukrainian families in their own homes.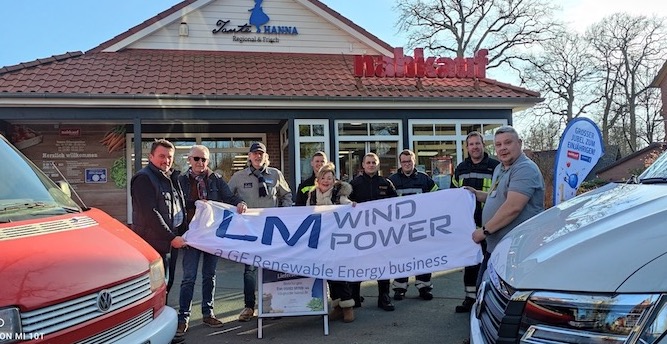 For GE employees in Central and Eastern Europe, signs of the war in Ukraine are all around them. More than 3 million Ukrainians have reportedly entered Poland since the war began, and 1.2 million have registered with the Polish government, according to the U.N. The U.N.'s latest estimates say there are more than 780,000 Ukrainians in Germany and nearly 375,000 in the Czech Republic. In total, as of June 16, more than 5 million Ukrainian refugees have been recorded across Europe. The European Union is allowing Ukrainians to live and work in its 27 member nations for up to three years.
Numerous GE employees call Ukraine home, even if they are currently working in other countries. At GE's LM Wind Power factory in Goleniów, in northwest Poland, people from Ukraine made up a third of the workforce before the war began. Goleniów's employees have hosted more than 160 Ukrainian refugees. Donation events were held at LM Wind Power's two factories in Spain, allowing eight pallets of food and clothing to be sent to Goleniów, as well as a pallet of medicine that went to Ukraine.
Throughout Europe, local GE employees are receiving support for their efforts from the global team. The GE Foundation will match charitable donations made to support the people of Ukraine. GE also covered the transportation costs to ship 14 tons of goods from Elbląg to Ternopil, in western Ukraine, which has hosted up to 25,000 people from central and eastern Ukraine, where the fighting has been most intense.
In Poland and the Czech Republic, GE Volunteers are coordinating teams of employees from GE Aviation, who have assembled care packages of hygiene products like shampoo, hand sanitizer and diapers, as well as meals of fruit, water, hot soup and sandwiches, and delivered them to railway stations where Ukrainians arrive. Some GE employees have helped by picking up refugees at border crossings and driving them to their destinations.
"I want to help, as I want to believe that if I, or my family, would have to run away from our country, someone would help us as well," says Katarzyna Frydrycka-Zabadaj, a GE Aviation staff technical product manager in Warsaw, who has hosted 20 Ukrainians at different times at her home, including three generations of one family.
In Hungary, where there are about 25,000 refugees from Ukraine, the GE Hungary Affinity Groups organized a donation drive, collecting items such as medicines, blankets, diapers, toys and clothes to provide immediate help at the Ukraine border and in Budapest. The GE employees also bought first-aid products and contributed to local humanitarian efforts.
In Germany, the Grid Solutions Long-Term Maintenance Contract DolWin3 team, led by Kevin Grassmann, donated the award it received as part of the 2021 Grid Services Championship to support Ukrainian refugees with food, drinks and hygiene products. Grassmann coordinated the aid and delivered groceries and other necessities to refugees around Berlin. At the peak, 15,000 people were arriving in Germany from Ukraine every day.
As the war in Ukraine grinds on, arrivals in Poland and elsewhere face major challenges. "Newly arrived refugees often come from areas heavily affected by the fighting, some having spent weeks hiding in bomb shelters and basements," says Olga Sarrado, a spokesperson for UNHCR, the U.N.'s refugee agency, at a May 27 press briefing in Geneva, Switzerland. "They often arrive in a state of distress and anxiety, having left family members behind, without a clear plan for where to go, and with less economic resources and connections than those who fled earlier."
Knowing what these refugees — many of them children — have endured, GE employees are doing what they can to help them feel comfortable, cared for and welcome. In Elbląg, reflecting on his and his colleagues' contributions, Piotr Kozłow says, "All these things helped me to stop feeling powerless and to recall what solidarity is."
Categories
tags