They help build helicopter engines for a living, but on this warm June day Madeline Stanton and Grace Hamel were being asked to tackle one of the modern world's trickiest tasks: assembling furniture from a flat-pack kit. Sitting on the floor of a young boy's bedroom while sorting through Allen wrenches and bolts of varying tininess, the engineers drew on their mechanical skills to put together a brand-new bed. Downstairs, one of their colleagues rolled white paint onto kitchen walls while others sanded the deck out back.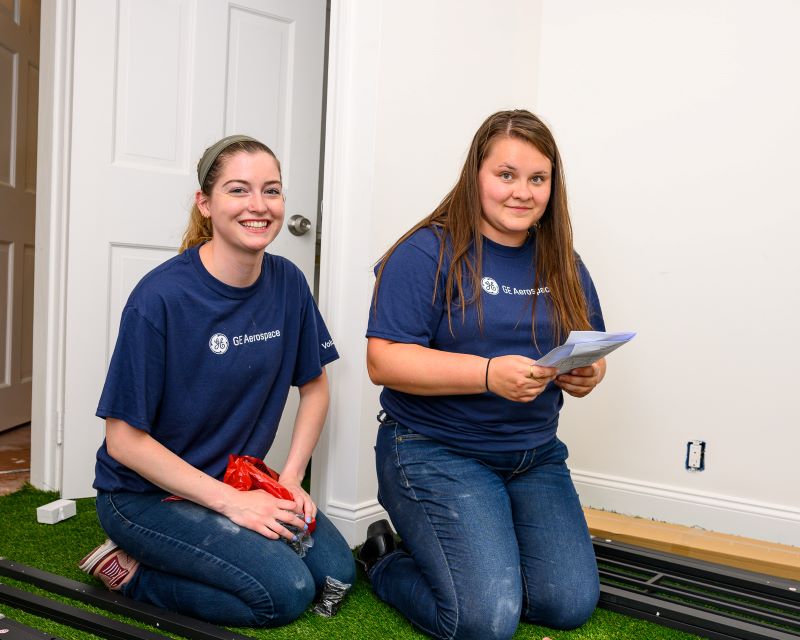 They were among employees at GE Aerospace's plant in Lynn, Massachusetts, who came out in force to help overhaul a local family's house as part of the upcoming season of Military Makeover With Montel , a reality television program that remodels homes for veterans. Hosted by Montel Williams, Military Makeover pulls together local businesses and volunteers to carry out home improvements — everything from installing new flooring to revamping a patio — based on the needs of the veteran's family. The new season, which premieres August 11 on Lifetime, will be sponsored by GE Aerospace as part of the company's ongoing commitment to service members. In return, the show's producers chose to help a family in Lynn, home to GE Aerospace's flagship defense plant.
From the veterans nominated, Military Makeover selected Jason Carmody for his ongoing service. After eight years as a military police officer in the National Guard, which included a nine-month deployment to Baghdad in late 2007, Jason became a captain in the Department of Veterans Affairs' police force. His wife, Alyssa, is a social worker in the Lynn Public Schools and a mental health counselor for Wilmington Family Counseling Services; they have four children, ages 6 to 20.
"I could tell how big a role the Carmodys play in the local community," says Jennifer Bertrand, Military Makeover's designer. "People came out of the woodwork to help with the remodel. One woman sent a text saying, 'They raised money for me when I got cancer.' We had parents whose kids Jason coached, people from the school where they're on the PTA."
Other volunteers simply wanted to give back to a service member. "Lynn, Massachusetts, showed up," says Williams, himself a veteran of both the Marines and the Navy. "From local politicians to school board members to neighbors, they pitched in to say thank you to a veteran family on their block."
GE's Veterans Network, a resource group that connects current and former service members in the company, also offered manpower, and Bertrand took delight in leading aerospace engineers through a battery of home renovations. "They did whatever I asked of them," she says. "They all went above and beyond."
"There was a generally excited and positive attitude around the site, with everyone wanting to work together to do something great," says Philip Weed, an engine systems leader at GE Aerospace who volunteered with the remodel.
The age of the Carmodys' house — a 1940 Cape Cod — complicated their work. "Old houses need love," Bertrand explains. "But together, we met the challenge." Says Williams, "One of the things we prove every time we do a makeover is that you don't have to go out and purchase all new products. You can refurbish what you have. I like the fact that anybody tuning in can say, 'That's not so far out of reach; I can do that.'"
On June 16, when Williams ushered the Carmodys through their front door for the first time since renovations began, the family got to see the results of 10 days of round-the-clock work. "It's hands-down my favorite part of every season," says Art Edmonds, the show's co-host. "Seeing the work, meeting the friends and neighbors and all the people who helped, and then watching the family take in the makeover."
"We can't believe how much they accomplished so fast," the family says. "We hoped for a couple upgrades. We got those and then some."
Emerging from the house into a crowd of cheering volunteers and well-wishers, the Carmodys felt overwhelmed with joy and thankfulness. "It brought tears to our eyes to see the number of people who showed up for us," they say. "We have no words to express our gratitude."
For Williams and his crew, the feeling is mutual. "People forget that there's human flesh involved in military conflicts," Williams says. "It's important that we as a nation show our appreciation now, while we're in what we consider peacetime, and not wait until our family members have paid the ultimate sacrifice to protect us."
The Carmodys' season of Military Makeover premieres on August 11 at 7:30 a.m. ET/PT on Lifetime, with new episodes every Friday for the following three weeks. Each episode will be rerun at the same time on the Thursday after its original broadcast. Episodes can also be found at militarymakeover.tv once they have aired. Stay tuned to GE Reports for more on the show.
Categories
tags