When oil prices plummeted in 2014, it was a boon to consumers but a hurdle for the oil and gas industry. Over just a few months, prices dropped from $112 per barrel to $62 per barrel and continued to drop until hitting bottom at below $27 in 2016, cutting into profits and turning business forecasts on their head.
At the same time, demand for energy keeps climbing. The U.S. Energy Information Administration expects that energy consumption will increase 56 percent by 2040, mostly in developing nations. Oil and gas is projected to meet 50 percent of that demand.

As a result, efficiency and productivity have never been more important for oil and gas producers working in this challenging market. GE Oil & Gas and Baker Hughes agreed, in October, to merge and create a new company that can help operators improve their productivity with an offering that stretches the length of the oil and gas value chain — from finding oil and gas to getting it out of the ground to turning it into energy.

The deal closed today, just eight months after the transaction was announced, creating Baker Hughes, a GE company.

"We created BHGE because oil and gas customers need to withstand volatility, work smarter and bring energy to more people," says Lorenzo Simonelli, president and CEO of the new company. "Our offering to them is now different from any other in the industry."

The newly merged company links services and equipment under one roof to increase speed and reliability and save time and money. BHGE's approximately 70,000 employees around the globe will be able to collaborate on one digital platform, GE's operating system for the industrial internet called Predix, and analyze data from thousands of sensors at plants and refineries. The insights will allow them to improve productivity at the lowest possible price. For example, they will be able to better manage maintenance so that, if necessary, parts are taken out of service and fixed at the right time so they can avoid downtime and reduce expenses.

The unified company will have access to the GE Store, which draws on knowledge and expertise from across GE's portfolio. That means that BHGE will be able to use the latest advancements in jet engines, additive manufacturing and other areas to find ways to advance the oil and gas industry. GE estimates that digital and advanced technologies could help improve productivity by around 5 percent across the entire gas and oil industry.

The deal gives GE a 62.5 percent interest in the new company and legacy Baker Hughes shareholders 37.5 percent interest. The new company will be based in Houston and London and will be headed by Lorenzo Simonelli, who was previously president and CEO of GE Oil & Gas. By 2018, BHGE expects to add $.04 to GE's earnings, and by 2020, BHGE expects $1.6 billion in run-rate synergies. The new company will trade independently as NYSE:BHGE starting Wednesday, July 5.

"I am excited about BHGE's future," says Simonelli. "Now our focus is on integrating our businesses quickly and seamlessly so we can drive long-term value for our customers, stockholders and employees."

For more on BHGE, visit the company website at bhge.com.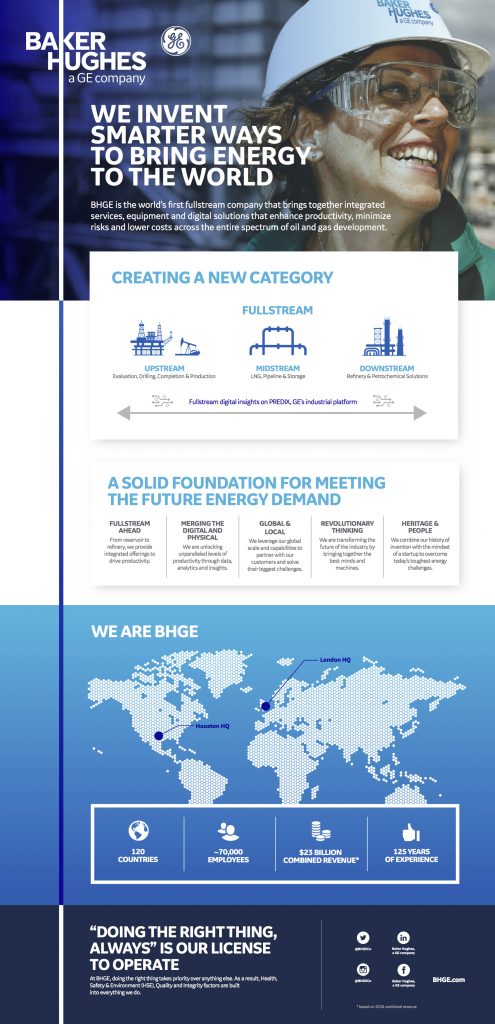 Categories
tags