Amazon may be the largest online retailer in the world, but the company is focused on having a positive impact on the ground as well. With an ever-expanding global network of fulfillment and data centers, Amazon has a growing demand for energy. Amazon also has an equal appetite for and commitment to renewable energy. In fact, Amazon Web Services (AWS), the company's cloud computing business, has a long-term commitment to achieve 100 percent renewable energy usage for its global infrastructure footprint.
Amazon has become a big player in the renewable energy industry. Last fall, the company announced plans for its largest wind farm yet in a blustery corner of west Texas. Jeff Bezos, Amazon's CEO, christened the farm today.

Built by Lincoln Clean Energy, the Amazon Wind Farm Texas includes a fleet of GE wind turbines. The farm will have the capacity to generate approximately 1 million megawatt-hours of electricity annually — enough to power almost 90,000 U.S. homes. Some 90 percent of the output energy will be sold to Amazon's fulfillment arm.

Scott Stalica, manager for commercial operations in the Americas at GE Renewable Energy points out that wind is not only good for the climate but also for the wallet. The cost of wind power is about one-third of what it was six years ago. "Wind is very competitive versus alternative forms of generation," Stalica says.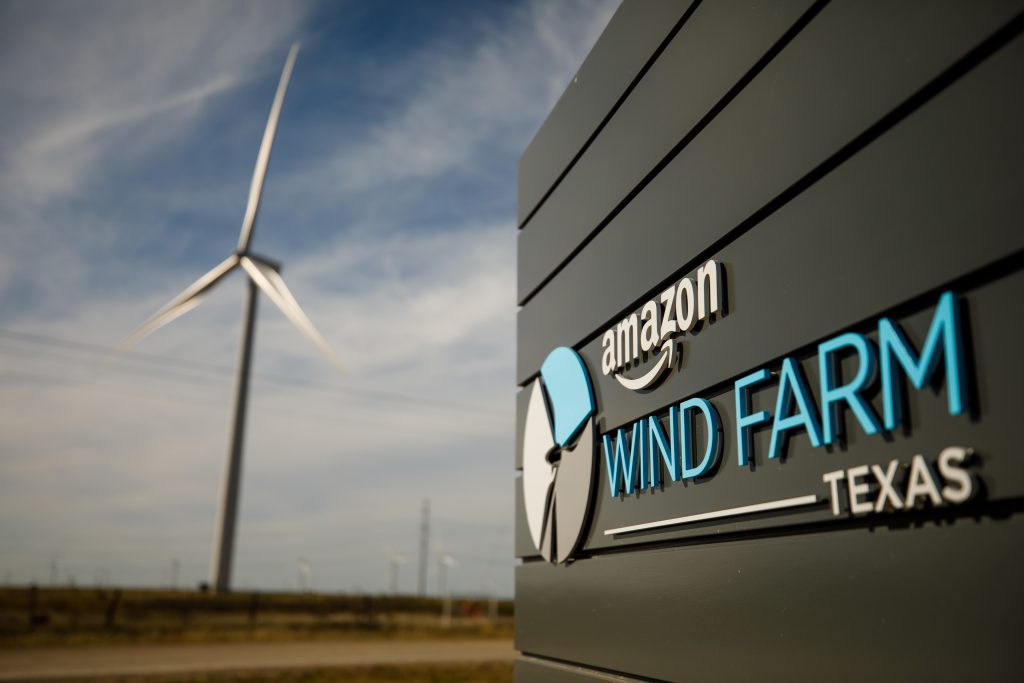 $75.20 per megawatt-hour.

The opportunity for corporations to leverage the cost-competitive nature of renewable energy is growing. In 2015, AWS announced the construction of Amazon Solar Farm US East, Amazon Wind Farm Fowler Ridge, Amazon Wind Farm US Central and Amazon Wind Farm US East. In 2016, it announced five additional solar farms and one more wind farm, bringing the total number of such AWS projects to 10. With the addition of Amazon Wind Farm Texas, Amazon is poised to generate almost 3.6 million megawatt-hours of renewable energy by year-end 2017.

Scurry County, Texas, was selected as the site for the Amazon Wind Farm Texas because of its plentiful wind and affordable production and transmission costs. "It makes good sense to build these large wind farms where the wind resource is strong and the local residents welcome the economic boost from such projects," says Paul Parkes, senior account manager in Wind Energy at GE, "you need a really good wind resource, and it's got to be close to transmission lines to integrate and connect to the grid.  This project is a model for connecting those dots and deriving the optimum energy solution for Amazon."

 
tags