Doctors tell many expectant mothers in their eighth month to keep an eye on their blood pressure — hypertension can be a sign of preeclampsia, a pregnancy complication. In addition to schlepping to increasingly regular doctor visits, many anxious women pretty quickly figure out which pharmacy near them has the least grubby blood pressure cuff machine for a free read.
But if a group of researchers has its way, these women — and anyone else who needs to monitor their blood pressure regularly — will be able to get a reading with just their smartphone. That's because scientists at GE Global Research, Michigan State University and the University of Rochester Medical Center, with funding support from the National Institutes of Health (NIH), are working on algorithms that can analyze video from a phone's camera, detect blood pulsing just beneath the skin and offer blood pressure reading. "This new 'cuffless' approach involves capturing a short video of your face and hands lasting 5 to 10 seconds, during which we observe and analyze what's happening beneath the skin to estimate your heart rate and blood pressure," says Lalit K. Mestha, a principal engineer at GE Global Research.

Here's how it works: The natural light in a room penetrates just below the skin's surface. Humans can't see this, but video cameras like those on most mobile phones or tablets can. The algorithm needs just several seconds of close-up footage of a face or hand to extract pulsation information based on faint skin-color shifts caused by changes in blood volume as it courses underneath the skin. "The color variation is generally too subtle for the naked eye to detect, but not for the algorithm," Mestha says.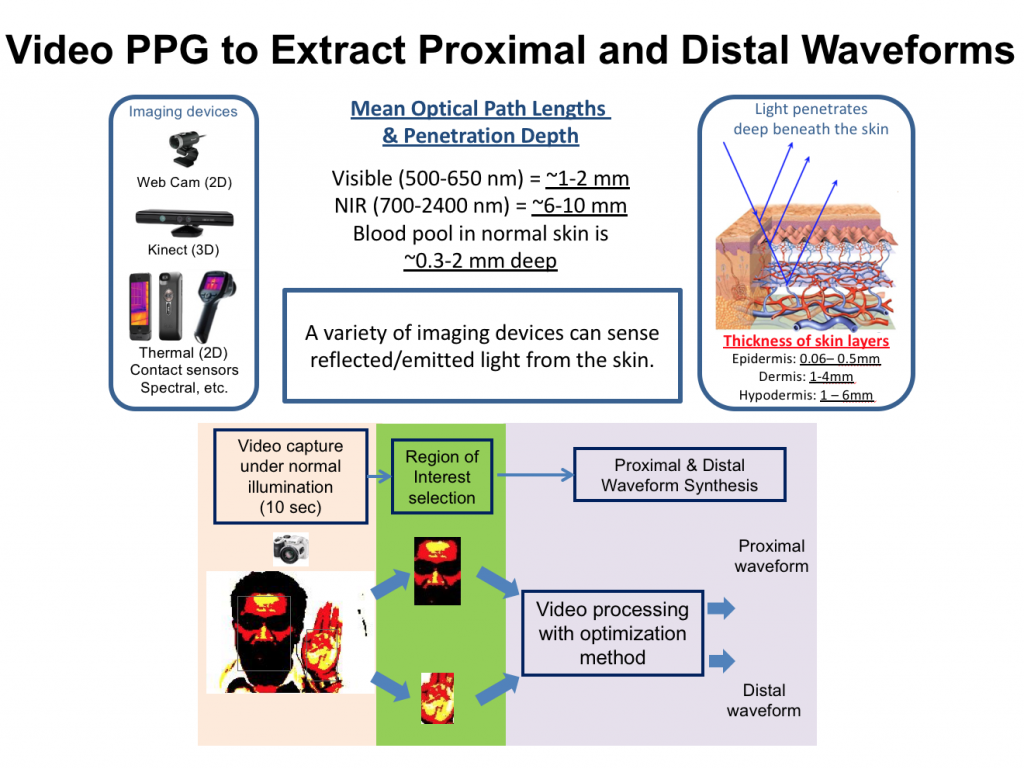 Karl von Vierordt. Blood pressure equipment found in most doctors' offices provides a very accurate measurement, but the physical bulk of the machine is somewhat old-fashioned in this digital era. The new algorithm could benefit patients by reducing cost, while enabling continuous monitoring. Home blood pressure monitors usually cost between $40-$75, while the average price of an app is much less.

Patients who don't have a cuff blood pressure monitor at home must travel to obtain a reading or schedule a visit from a nurse. In those situations, "white coat" syndrome can drive blood pressures up. In any case, it's an inconvenience that makes it difficult to monitor blood pressure regularly. Blood pressure cuffs are also challenging to use on tiny babies, who squirm, and for whom the cuffs don't always quite fit.

"Imagine being able to continuously monitor the vitals of entire neonatal units in the hospital or home monitoring for the elderly and disabled," says Gayu Seenumani, a senior engineer at GE Global Research who is working on this technology. "For patients with high blood pressure who must take blood thinners for a heart condition, being able to regularly and more easily take their blood pressure would be much more convenient and could be a lifesaver."

Seenumani adds that the app would also be a great way for pilots, long-distance drivers or even astronauts to watch their blood pressure while on the job. An app would be a simple way to get a reading without removing any clothes.

Last year, the American College of Cardiology and the American Heart Association updated their hypertension guidelines. High blood pressure levels — associated with stroke or heart attack risk — are now considered to be 130/80 millimeters of mercury or greater (it used to be 140/90). Physicians commonly order home 24-hour blood pressure monitoring in situations when office blood pressures are concerning but home blood pressures as measured by a patient are not, in order to have a true daily average value.

The app is one example of GE's efforts to transform medicine by making it wireless and cloud-based. "The world is going wireless and wearable," Erno Muuranto, an engineer at GE Health Innovation Village in Helsinki, Finland, told GE Reports. "We could run hospitals like smart factories. Wireless sensors and data analytics will help correctly diagnose patients in the ambulance. It will allow us to administer correct treatment faster, which could lead to faster discharge. It will also allow us to monitor people remotely from home. All of this will help improve care and costs."

Mestha and Seenumani are currently testing their cuffless blood pressure technology with videos on volunteers from the University of Rochester Medical Center. "Mobile devices have revolutionized the speed and ease with which we can plan our daily lives," Mestha says. "Why can't we do the same thing when it comes to our health? It's a question we're working on rapidly to make possible."
tags