Advances in LED technology are making lighting cheaper and smarter.


The LED is finally getting its day in the spotlight. More than 40 years after GE engineer Nick Holonyak invented the first LED light, innovations have transformed the technology from a humble source of lighting to a driver of energy efficiency and analytics.

Thanks in large part to continuing price declines, LED shipments in the United States climbed three-fold last year, accounting for 15 percent of the market in the third quarter. GE expects more than half of light sockets in the country to be using LEDs by 2020.

GE has even announced a public break up with compact fluorescent lamps (CFLs), which had previously been a popular energy-saving lighting source, with plans to stop making CFLs in the U.S. by the end of the year.

Walmart, which is participating in the "break up" campaign, certainly understands the benefits of LED — as an early adopter of the lighting technology more than a decade ago. The world's largest retailer has been installing LEDs in everything from signs and ceiling fixtures to freezer cases in its bid to cut energy use in its buildings by 20 percent by 2020, and it's working to educate its customers on how to benefit from the technology, as well.

"We're excited about LED technology and what the future can hold with even more innovation around the intelligent lighting," says Laura Phillips, senior vice president of sustainability at Walmart. "We're leveraging LEDs to help customers save money so they can live better."

In the interview, Phillips discusses the how LED technology can bring about energy savings and help unlock the potential of "intelligent" lighting, as well as the challenges of creating a more sustainable business model:



What's driving the market shift toward LEDs? Are consumers just falling in love with the energy savings?

Our customers are definitely value-conscious — they love saving money.

Over the past 10 years that we've been working on sustainability, we've seen that when we talk with customers about energy savings and what they can save with purchasing new technology – they really gravitate to that. When customers understand the value of what they're saving on energy, we see a great response.

We see this within Walmart too. As we looked at our own footprint and our own energy use, LED lighting has been a really key part of helping us to achieve energy savings. That began all the way back in 2003, when we began testing some LED signage. Since then, we've had a lot of really neat innovative projects with LED lighting, such as: freezer cases that help energy consumption, parking lot lighting that not only saves energy but also emits great light for safety, and retrofitting stores with sales floor lighting with LED.

So innovative LED technology has certainly been a key component to help us reduce our energy consumption. And we will continue to invest this year, using LED lighting in different areas of our stores.



Are there any lessons learned from Walmart's LED rollout that other companies — as well as consumers — could benefit from?

These commitments do take time, and they require an investment – sometimes upfront. It also requires change management, new ways of working and really making sure that we're investing for the long term.

Since it requires an upfront investment, for us it was about making sure we're working across business segments and talking about the full benefits of an LED installation — from how the customer benefits from improved lighting to a reduction in energy expense. Being able to communicate that is really important.



LED technology has the added benefit of enabling "intelligent lighting" because of its integration and application of software and analytics. How can you see this improving people's lives?

I think we're still on the edge of really doing that, building great capabilities in data analytics. Big Data plays a role. At Walmart, it helps us understand what customers want to buy and making sure we get products to them — whenever, wherever they want to buy the product.

And Big Data can also help in our sustainability efforts. Today, we leverage data to monitor our stores' temperature, lighting and heating around the world. We leverage that data and monitor it centrally to optimize operations — whether it's our freezer cooler, protecting our products or making sure our stores are comfortable. I think there's even more to do there —certainly with the innovation around LED and smart applications. We're excited about seeing what's next.

We also use data in sustainability — to help make decisions in our supply chain. We leverage the sustainability index with our suppliers to help us manage hot spots in our product categories. We can look at certain commodities in product categories and see if there are hot spots for them in climate or water or energy. Then we work with those suppliers in leveraging that data.

(Top GIF: Video courtesy of GE)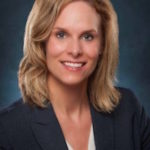 Laura Phillips is Senior Vice President of Sustainability at Walmart.
All views expressed are those of the author.
tags