With New York's reputation for accelerating action to tackle the tallest challenges, it came as little surprise that this year's Climate Week NYC summit was the most bustling in many years. Coming on the heels of unprecedented energy security threats and climate impacts, and looking ahead to the 2023 United Nations Climate Change Conference, or COP28, taking place in Dubai Nov. 30 to Dec. 12, the sense of urgency and action was present everywhere from hotels to the streets. This united front made one of the world's largest and most diverse cities at times seem closely connected and singularly focused.
One theme that emerged across different industries, stakeholders, and countries was 3x—accelerating action with clean energy and technology deployment by 2050 at three times the current pace. GE was proud to help launch several 3x initiatives in collaboration with government, NGO, and industry stakeholders, while accelerating its own steps in this transformative era of climate and energy action.
3X for Nuclear
The week started with a big boost for nuclear energy, when the recently created Net Zero Nuclear initiative put out the call for a tripling of nuclear capacity by 2050. As part of the Atlantic Council's Nuclear Energy Policy Summit at Climate Week and advanced by the Emirates Nuclear Energy Corporation, the challenge calls for unprecedented collaboration between government leaders and industry and was praised by U.S. Special Presidential Envoy for Climate John Kerry, whose remarks opened the summit.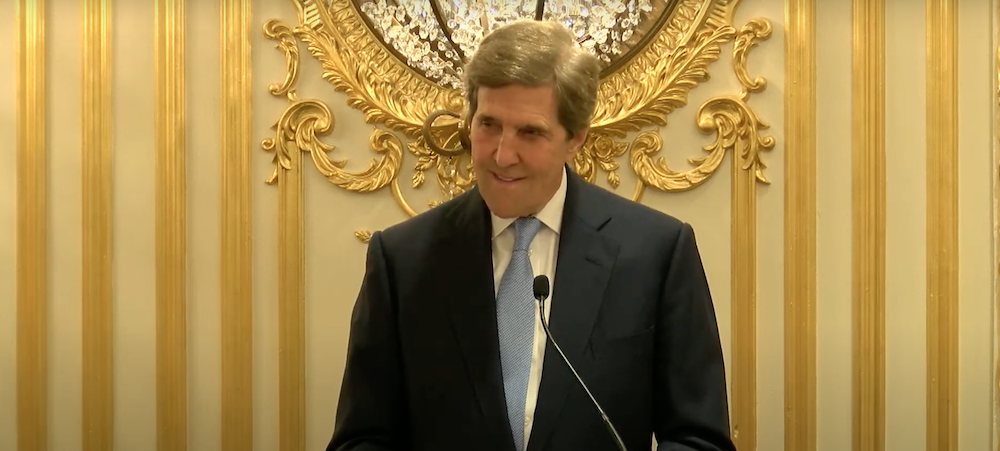 "The United States is now, therefore, committed — based on experience and based on reality — to trying to accelerate the deployment of nuclear energy," Kerry said. "I'm very pleased to see the launch of Net Zero Nuclear, a pioneering platform for countries and companies that want to try to accelerate the clean energy transition."
Reaching the proposed goal would mean deploying an average of 40 gigawatts (GW) of new nuclear capacity per year — more than six times the rate during the past decade. That is why GE Hitachi Nuclear Energy, a GE Vernova company, joined Net Zero Nuclear as the first corporate partner, to help elevate the role of nuclear in solving the trilemma of delivering more sustainable, reliable, and affordable electricity. GE Hitachi is investing in advanced nuclear technologies like its BWRX-300 small modular reactor and the Natrium sodium fast reactor (a TerraPower and GE Hitachi technology) to provide carbon-free, flexible, dispatchable electrical generation while also helping nations meet energy security goals.
On Tuesday at the summit, GE's  chief sustainability officer, Roger Martella, took part in a discussion on "Designing the Next Generation of Nuclear Technologies." Joined by executives from three other companies working on tomorrow's nuclear solutions — Oklo, TerraPower, and X-energy — Martella emphasized the progress nuclear has made in the past two years toward being a key piece in solving the climate puzzle, and the importance of cooperation between companies and between private enterprise and governments. Technologies like GE Hitachi's BWRX-300, he said — which is already in development for projects in Ontario, Poland, and Tennessee — provide proof points that "this is going to work and this is something that's going to be very sustainable."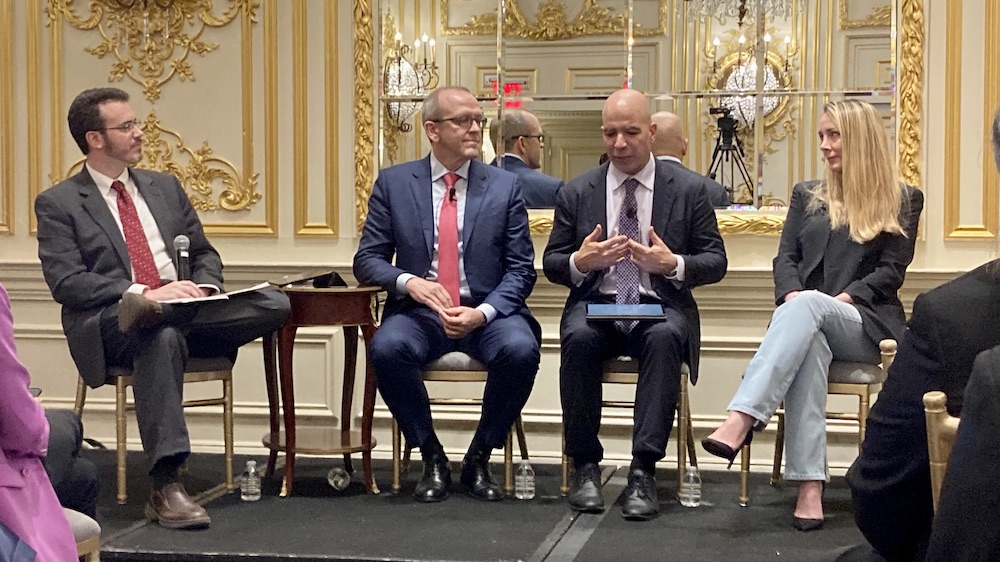 Looking ahead to late November, Martella added, "I'll be so optimistic as to say I think nuclear is going to be the headline of COP28."
"The key to us," he said, "is communicating that [the progress by nuclear] is wonderful for climate change — and that's urgent, we have to do it for climate — but it's also electrification, it's energy security, it's all these other economic opportunities that come with it. It's domesticating clean energy economies. And I think we have to message all of those themes together, which are all true and sincere."
3X for Renewables
Nuclear wasn't the only 3x announcement kicking off Climate Week. Monday also saw the launch of the 3xRenewables by 2030 campaign — a call for action from companies and organizations worldwide representing $12 trillion in market value, led by the Belgium-based Global Renewables Alliance. GE Vernova, GE's portfolio of energy companies, announced this week that it had joined the initiative.
Inspired by the International Renewable Energy Agency's World Energy Transitions Outlook 2023, 3xRenewables calls for a "tripling of total global renewable power capacity by 2030 to at least 11,000 GW and doubling energy efficiency improvement rates," as "an immediate course-correction to limit global warming to 1.5°C."
The pathway the group proposes involves nearly a quadrupling of new wind energy, a 21% boost to hydropower installed capacity, and a tripling of new solar capacity each year from the current course.
Bruce Douglas, CEO of the Global Renewables Alliance, said that "with less than three months left until the COP28 climate talks begin, we see that the world is ready for what the UN Secretary-General has called a 'quantum leap in climate action.'"
3X for Climate Action
During the summit, GE leaders met with governments, customers, and NGOs — from Canada, Cote d'Ivoire, Iraq, Nigeria, Vietnam, Ukraine, the UAE, the U.K., the U.S., and Zimbabwe — to advance action through partnerships and collaborations in helping to achieve climate goals.
During Climate Week, Climate Impact Partners, a company that develops and delivers carbon market solutions for climate action, released a report called "Commitment Issues: Markers of Real Climate Action in the Fortune Global 500."
The report looked at the 500 largest global companies — 44% of which are based in Asia, 31% in North America, and 21% in Europe, with a total combined revenue of $41 trillion — and assessed their progress on reducing emissions. One instructive takeaway was that "companies that reduced reported emissions year over year earned on average nearly $1 billion more in profit per company than their Fortune Global 500 peers."
Climate Impact Partners included interviews with four CSOs from major corporations who've made the biggest impact, including GE's Martella. "By 2030," he said, "the companies that can successfully integrate sustainability and climate change solutions into their business plans and operations are going to be at a competitive advantage." Martella's thoughts on the importance of CSOs, and the complete report, can be accessed here.
As we look ahead to COP28 in the UAE later this year, Dubai-based Gulf Business magazine published an interview with Martella, who credited the UAE as a country that is "rapidly emerging as a leading global influencer of climate change, decarbonization, and energy transition" and one that is "demonstrating leadership, investment and initiative in driving decarbonization and innovation."
This year, he said, could be "the most consequential COP since Paris. The momentum is building towards a move from 'policy' talk to 'business' action. We are seeing a realigned direction that focuses on results and outcomes; redefining climate action as an opportunity, not a risk; and reorienting public-private partnerships to achieve results in the near and long term."
Categories
tags