Catch some waves like a beaver. Cruise, nano-style, in a car made of molecules. Wander the universe with a runaway black hole the size of 100,000 suns. Or just sit back and relax to the sounds of nature's jazz musicians. Is this the coolest list of the coolest things in science?


The Oscars For Science Nerds

[embed width="800"]https://youtu.be/I5JgJsjq3Q4[/embed]

A molecular machine 1,000 times thinner than a human hair. A cellular recycling system that breathes new life into worn-out components of life. Using math to unlock the secrets of exotic matter like superconductors, superfluids and thin magnetic films. These were the discoveries that won scientists the 2016 Nobel Prize this week. The chemistry prize went to Jean-Pierre Sauvage, Sir J. Fraser Stoddart and Bernard Feringa, who figured out how to link molecules to create working nanosized machines, like a car that moves. The medicine prize went to Yoshinori Ohsumi, a Japanese researcher who uncovered the way that cells perform autophagy, a critical process that breaks down proteins and other components for reuse later. Physicists David Thouless, Duncan Haldane and Michael Kosterlitz won for using an advanced mathematical method called topology to study unusual phases of matter, which could lead to the development of new materials.

Video credit: This video of an electrically driven four-wheeled molecule moving over a metal surface was part of a paper published in the journal Nature in 2011.

Will It Come With A Tail?

[embed width="800"]https://youtu.be/o4a6eSgKWhE[/embed]

The next generation of wetsuits could be inspired by a beaver's fur. MIT engineers are using the small semiaquatic rodent as inspiration to make a wetsuit that keeps surfers and divers warm and nimble in cold water. Both beavers and sea otters are able to maintain their body temperature and agility in water without the blubber marine mammals often use thanks to their dense fur, which traps insulating pockets of warm air. The researchers built rubber models of skin patches with differently spaced and sized hairs and then plunged them into water to see which variations trapped the most air. Putting their data into a new model, they are now able to predict how much air will be trapped with different hair configurations. Their work might have applications outside of just helping someone hang 10 a bit better; it could be useful in industrial processes such as dip coating.

Top image: : Inspired by hairy, semiaquatic mammals such as beavers and sea otters, a group of MIT engineers are fabricating fur-like rubbery pelts to learn how these mammals stay warm and even dry while diving underwater. Video: Melanie Gonick/MIT. Image: Felice Frankel.

Wandering Black Hole Discovered Because Of X-ray Indigestion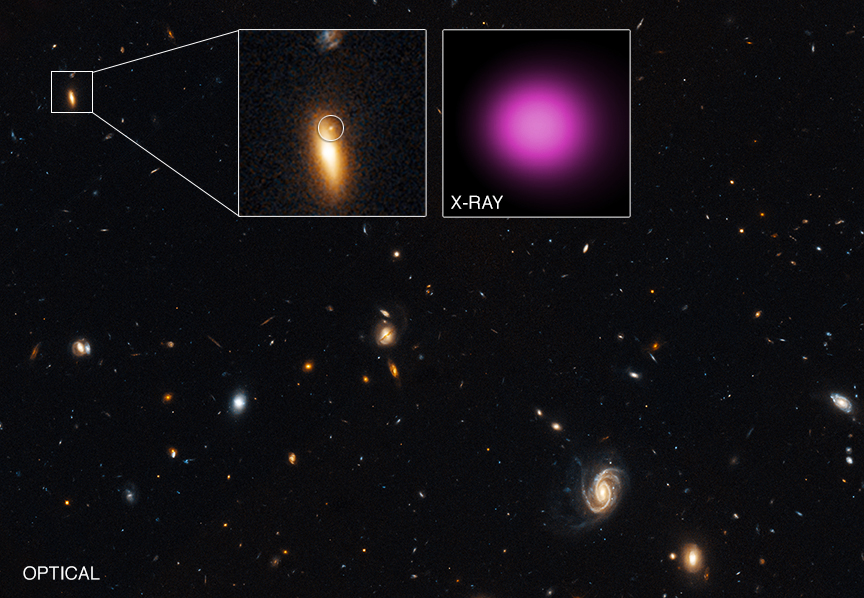 Using Chandra and XMM-Newton, astronomers have discovered an extremely luminous, variable X-ray source located outside the core of its parent galaxy. This black hole likely has a mass of about 100,000 Suns, and may have once been part of a smaller galaxy that merged with a larger one, leaving this black hole on the outskirts of the combined galaxy. Scientists refer to such objects as "wandering" black holes.

A burst of X-rays from deep space that led to the discovery of a "wandering" black hole may have come from a star being consumed by it, astronomers say. The object, referred to as XJ1417+52, was found some 4.5 billion light-years from Earth in a region called the Extended Groth Strip. It may have been sent wandering after its home galaxy fell into a larger galaxy. So many X-rays are coming from XJ1417+52, which is believed to have a mass of 100,000 suns, that it is classified as a hyper-luminous X-ray source. NASA's Chandra X-ray Observatory and ESA's XMM-Newton X-ray observatory discovered the object. Emissions of the energetic wavelengths that gave it away are likely to be the remains of a star that was torn apart by the black hole's tidal forces and then began falling into it. Peak brightness was recorded between 2000 and 2002, and the outburst has dimmed by a factor of 14 since then.



Nature's Master Musicians

[embed width="800"]https://youtu.be/v_xanECwy5o[/embed]

It turns out that songbird's ain't just whistlin' Dixie. Some are thinking like real professional musicians. The Australian pied butcherbird sings much like a jazz musician plays — expertly mixing repetition with novel phrasing, according to a paper recently published online in the journal Royal Society Open Science. They also found that birds with complex repertoires must be better at keeping time in their notes so that avian listeners can more easily understand and learn the tunes. Researchers uncovered a correlation between complexity and regularity and found evidence that an underlying mechanism regulates the timing that groups of notes are sung based on how complex the song is. They say the findings hint that birds' musical abilities were the precursor for those in humans. "Since pied butcherbird songs share so many commonalities with human music," says biomusicologist Hollis Taylor of Macquarie University, "this species could possibly revolutionize the way we think about the core values of music."



Give Bacteria A Tan To Halt Hospital Infections

[embed width="800"]https://youtu.be/2lNGCj9oLCo[/embed]

Stopping potentially deadly hospital-acquired infections might be as simple as flicking on the lights. A study published this week in the journal Infection Control & Hospital Epidemiology found that patient room disinfection with ultraviolet C light significantly reduced Clostridium difficile infections in high-risk patients who subsequently occupied the room. C. difficile causes nearly half of all U.S. hospital-acquired infections. The research at the Hospital of the University of Pennsylvania added a robot equipped with a UV-C light to the hospital's standard infection-control efforts. Units serviced by the robots saw a drop in C. difficile infections of 25 percent compared with the year before while those that did not get the treatment saw the infection incidence rate increase by 16 percent from the year before. "These findings have real implications for both health systems and patients. The effectiveness and efficiency of UV-C robots make it a practical and cost-effective technology that will benefit hospitals around the country and save people's lives," said David Pegues, the study's lead author.

Video credit: The ultraviolet-C-emitting robot used in the study. Courtesy: Clorox Healthcare.
Categories
tags