In this digital age, we are constantly on the brink of a technological breakthrough. Innovation and advancement is a frenzy that isn't going to be curbed any time soon.  But, what is it that tips the scales for a marked technological advancement? Have you ever thought a lightbulb can do more than illuminate light?Or lights that give you a full range of internet access and the ability to connect to devices such as your smartphones, in addition to using only a fraction of the power? At the end of the day, it all boils down to saving money, convenience and a greener environment.
The following shows you a glimpse of 'Intelligent Cities' and the future of lighting.

1. Street Lights, Parking Guy, or Safety Guards?

https://www.youtube.com/watch?v=TscH_zgx1Lc



The street lights will now be able to direct you to available parking spaces and spare you the time and agony of searching for one yourself. This is due to built-in image sensors and wireless transceivers.




In the event of an impending earthquake, the intelligent street lights will have the ability to alarm you.  Thanks to the seismic sensory abilities that is installed in the street lights.




With the auto-brightness adjust function, street lamps will be more efficient in illuminating light when needed. This will help save cost for the government as the street lamps will be charged at a metered rate allowing the government to spend on improving the city.



2. Intuitive Buildings

https://www.youtube.com/watch?v=BI8lB-crVrs



An intelligent office will know to automatically dim lights on a sunny day to limit wasteful energy or turn down the heat in a crowded conference room to keep everyone comfortable.  This is done by means of connecting lights and sensors to the buildings IT network to simultaneously manage heating, ventilation and cooling.


Shopping has never been so efficient. Indoor location technology is making it possible for lights to "talk" to shoppers by leveraging LED modulation; allowing retailers to combine information with location. To put this in perspective, by downloading the retailer's app, you will be able to navigate through the store, and get notified on the latest promotions and offers.


3. Lights at your beck and call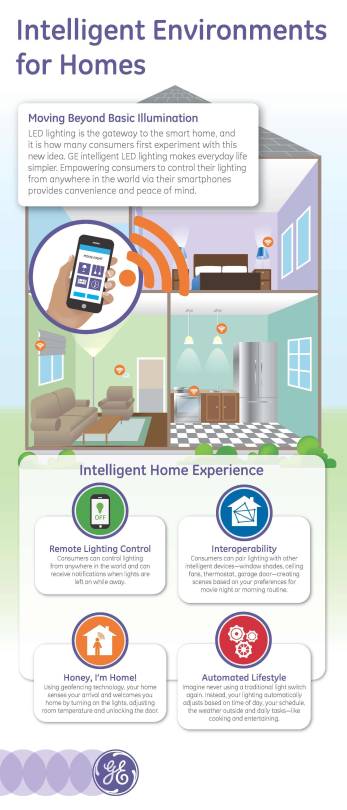 Categories
tags